Bacon Water Chestnut Appetizers
Boomette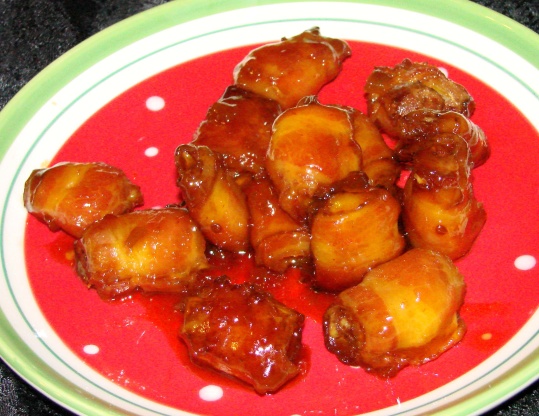 This recipe is from All Recipes.

These made a great New Year's Eve treat. Cutting the water chestnuts in half made them perfectly bitesize. When making them, my only caveat is be careful when they are getting close to being finished baking with the sauce on top. I took the pan out of the oven, and the sauce continued to bake (like caramel). By the time I got them out of the pan all of the sauce had burned. Keep in mind, the sauce will continue cooking, so take the pan out sooner than you would think. I will definitely make these again!
Preheat oven to 350 degrees F.
Wrap each water chestnut with a piece of bacon.
Place the rolls seamside down in a baking dish.
Bake in the preheated oven for 30 minutes, or until bacon is crisp and cooked through.
Drain off the grease.
In a small bowl, stir together the mayonnaise, brown sugar, and chili sauce.
Pour over the bacon-chestnut rolls.
Return to the oven and bake for another 30 minutes.