Bacon and Cheddar Muffins
NELady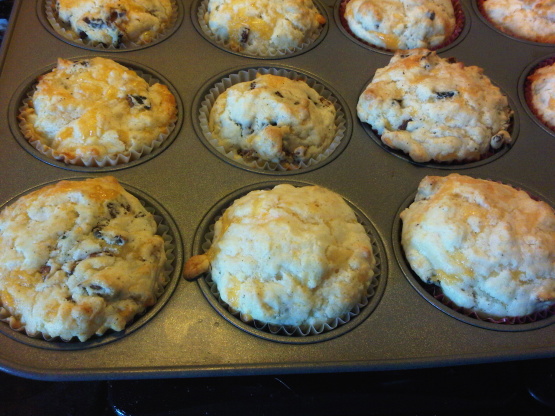 From More Family Favorites by Bethel Temple Missionettes of Demorest, Georgia, a cookbook sent to me in a cookbook swap from my partner, breezermom.

These are really good! They were so easy to stir-up, especially since I buy cooked, diced bacon at the restaurant supply store and keep it in the freezer. I served these to the kids for breakfast with fresh fruit but they would be good with soup - especially split pea. I did throw a few in the freezer a week ago and heated them in the microwave this morning for breakfast. They were still yummy and held up well to freezing. Thanks NELady for a delicious change in our breakfast routine!
Line 12 medium 2-1/2x1-1/4 muffin cups with paper baking cups. Mix all ingredients, except cheese and bacon, just until moistened (batter will be lumpy). Fold in cheese and bacon. Divide batter among muffin cups. Bake until golden brown, about 20 minutes, in preheated 400* oven; cook 15 minutes.