Autumn Pumpkin Apple Cider Bread
ChrisF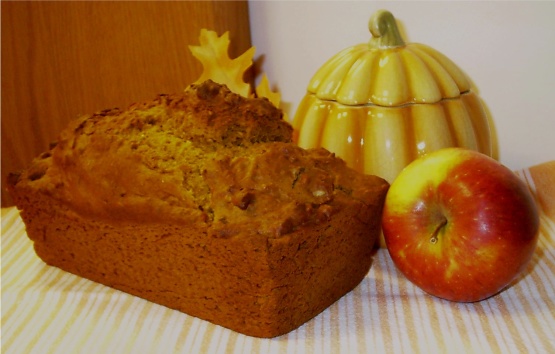 This is so easy to make! This bread is just perfect for Autumn.The cider and pumpkin combine wonderfully!

Great recipe! I loaded it up w/flax seed, quinoa, pistachio and sunflower seed kernels - left out the walnuts. Cooked up in 8 mini loaf pans - absolutely gobbled up at the oyster roast they were taken to. Kepper recipe - next time I will soak quinoa for 5 minutes in hot water before mixing in amd will also try adding some millet to the mix. TY for a great recipe!
Preheat oven to 350°.
In saucepan, boil cider until it's reduced to about 1/4 cup; let it cool.
In bowl, whisk together well pumpkin purée, eggs, oil, brown sugar, zest, and cider.
In bowl, sift the flour, baking powder, salt, baking soda, mace, cinnamon and cloves.
Add the walnuts; stir batter just until combined.
Pour batter to a well-buttered 8 1/2" x 4 1/2" loaf pan.
Bake in middle of oven 1 hour, or until a tester comes out clean.
Let bread cool in the pan.