Aunt Pat's Chocolate Butterscotch Candy
Brenda.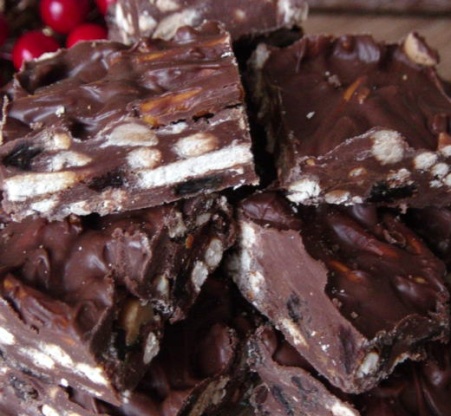 My Husband's Aunt Pat brought this recipe to a family gathering over the holidays. One Taste and I was hooked. This is so easy that even smaller children can make this with supervision. A co-worker told me she substituted Craisins for the raisins, and she was pleased with the results. I thought coconut might be a nice addition as well. Enjoy :)

This was very easy to make! I used mixed nuts since thats what I had on hand, and left out the rasins since my husband is not a fan of them. They are very tasty little snacks!
1

(11 ounce) package butterscotch chips
1 1⁄2 cups semi-sweet chocolate chips
1⁄2 cup crunchy peanut butter

2

cups thin pretzel sticks
1⁄2 cup dry roasted peanuts

10

ounces raisins
Butter a 9x13 baking dish.
In a large microwave safe bowl, add Butterscotch Chips, Semi-sweet Chocolate Chips, and Peanut Butter.
Microwave on high for 1 minute.
Stir.
Microwave at 20 second intervals, stirring each time until mixture is completely melted.
Stir in Pretzels, Dry Roasted Peanuts, and Raisins. The Pretzels will break into smaller pieces at this time.
Spread into prepared baking dish.
Refrigerate 30 minutes.
Score into 1-2 inch squares.
Return to refrigerator for at least another hour.
Cooking Time includes refrigeration time.
Note: If using creamy peanut butter, increase peanuts to 1 cup.