Butterscotch Candy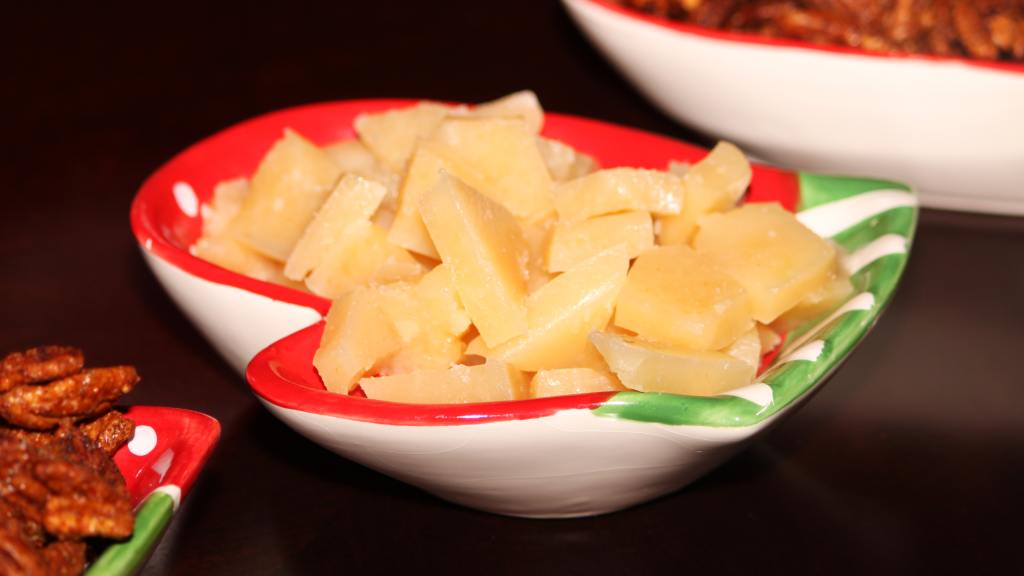 Ready In:

30mins

Ingredients:

6
directions
Try to make this candy on a dry [not humid] day.
Place sugar in a saucepan; add cream and water, and stir until the sugar dissolves. Wipe down the sides of the pan with a wet cloth. Add a pinch of cream of tartar, place over medium heat and boil the mixture very slowly until it reaches the soft-ball stage — 240 degrees F on a candy thermometer. Add the butter and boil the mixture until it reaches the soft-crack stage — 280 degrees F on a candy thermometer. DO NOT STIR AFTER THE MIXTURE HAS COME TO A BOIL!
Remove the pan from the heat and add the vanilla extract. Pour mixture into a deep, buttered 7-inch square pan. When the butterscotch is nearly cold, use the point of a buttered or oiled knife to mark it into bars or squares. When the butterscotch is quite cold and set. Break it up, wrap each piece in wax paper, and keep the candy in an airtight container.
Join The Conversation
This was so great, a perfect candy to make at christmas time. This was my first real attempt at candy and the first batch was a disaster, I guess I didn't have enough patience and I didn't understand why I couldn't stir it, well I didn't let my candy thermometer get to the right temperature and stirred it and well it didn't come out right at all. The second time I had more patience and followed the directions exactly, I learned my lesson on candy making! These were delicious!

Holy cow this stuff is good. I just made it and it is amazing. Good job Shepardess!!!! Ok this is an update. I took some to work and now everyone wants to know how to make it. Pretty simple really..just follow the recipe. This is a hit with the kids in the neighborhood when they can wrest it free from the grips of their parents. I have followed this recipe exactly no changes no invention just do what it says..oh except I did make some suckers out of it for the little kids. GREAT!!!

These were made for me by Diana #2 for the 2008 Cookie Swap. My friend and I first tried them while driving home from the post office. That was a bad idea. They were so good I almost crashed the car :) And now everyone who has tasted them wants me to make them. Thank you for such a wonderful recipe!
RECIPE SUBMITTED BY
I am considered a pretty good cook, and I love to go into restaurants and figure out 'how' to make what I'm eating. I am the proud owner of my mother's 1930's cookbook I am a RN by profession, but I'm retired and living with my husband in Sun City and a puppy standard poodle and my little Morkie Benji; all who LOVE the doggie biscuit recipes posted on Recipezaar.
View Full Profile