Auberge Cheddar Cheese and Ham Breakfast Buns - Muffins
Lalaloula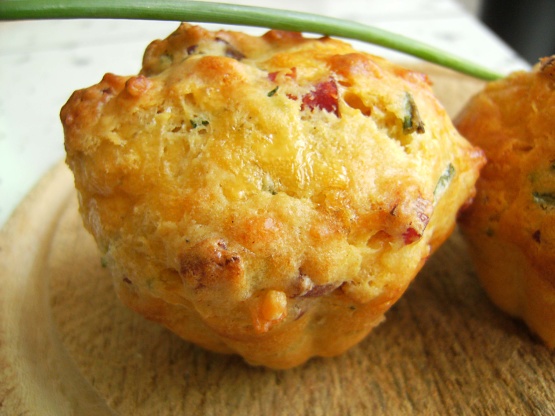 These are what the French call "cakes" - they are little savoury buns or muffins - and are always requested for breakfasts in the Auberge. They are delicious split and spread with herb and garlic cheese when warm - or serve them alongside hot soups, stews, chilli or casseroles! I have also made these with grated Gruyere cheese as well as Emmenthal....the trick is to use a mature and strong tasting cheese. I have suggested using smoked ham in this recipe - it just gives a wonderful extra flavour to these delicious buns/muffins. They freeze well and are easily reheated, if you have any left! We often have these for Christmas morning breakfast or brunch with the optional chives added, and then spread with smoked salmon butter - divine!

Totally wonderful! I make it two ways, just split the recipe in half and gave to my Dad and g/f, although I ate with them. I made some soft scrambled eggs and oven baked bacon and made these. I used chives, onions / scallions for one batch and topped with salmon spread, made myself from my salmon I cooked, not smoked but good grilled on charcoal with mesquite. Second, I used ham.I used some strong cheeses to really stand up to the mix and baked. What a great muffin. Easily with grilled meats, soups, salads, brunch, anything. So many variations, but we loved them and NOT ONE STANDING! They were rustic which I loved, easy and great flavor. Thx FT, loved it!! Made for Month of Chives and I am late posting, sorry, but a few personal problems and just late in getting everything done. LOVED it! Kim
Pre-heat an oven to 200°C/400°F/Gas Mark 5.
Grease a 12 hole muffin or bun tray/pan.
Sift the dry ingredients into a large bowl and mix well. Season with salt and pepper - but be careful not to over salt as the stock powder will contain salt.
Stir in the ham and cheese, and chives if using, mix again.
Add the egg, milk and olive oil - mix well - but do NOT over mix - just enough to combine the ingredients together. Adjust the consistency if too dry by adding a little more milk - the mixture should be a soft dropping consistency.
Spoon mixture into the prepared muffin/bun tray/pan and bake in the preheated oven for 20 to 25 minutes, or until the muffins are well risen and golden brown.
Remove from the oven and allow to cool slightly on a wire rack.
Serve whilst warm - delicious if spread with butter or soft cheese!