SharonChen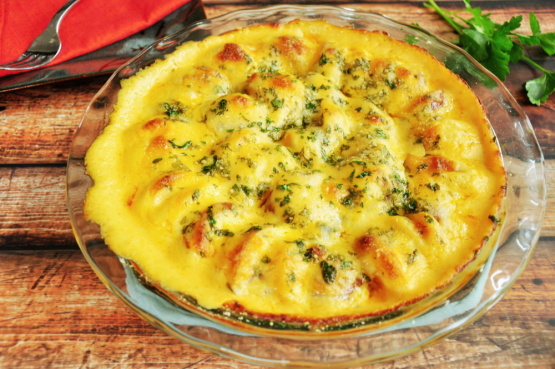 This au gratin potatoes recipe makes the best au gratin potatoes I have had yet.

Made this for a friendly Game Night gathering last night. It was such a big hit!! My friends couldn't stop eating it. I made a few adjustments after reading other reviews and wanting to add some flare:
-I used 3 1/2 pounds of yukon gold potatoes, boiled for 20 minutes, sliced to about 1/4 slices and left the skins on.
-Used 3 cups 2% milk, 1 cup half and half [t doesn't mention this in the recipe but after you put the milk in the pot (i used a large heavy-bottomed stainless steel pot) you need to simmer it on medium for about 5-7 minutes, whisking very frequently, until it thickens up before you add the cheese--otherwise it will be soupy]
-Finely chopped the leaves of one sprig of rosemary and added it in with the milk and garlic (a little more rosemary wouldn't hurt either).
-I caramelized one gigantic spanish onion ahead of time (cut in half, slice into 1/4 in. slices, cook on low for about an hour with some oil and a little salt) patted it dry to remove the excess oil (don't want sauce to be too oily) and then finely chopped it and added it to the sauce after the cheese. I think I'll add another 1/2 onion next time.
-I finely chopped up some raw broccoli and added it to the sauce after the cheese.
-I used aged cheddar and added 1/2 a cup after some reviewers said it could use more.
-I added parmesan and cheddar to the top of the dish before baking.
-I cooked it for 20 minutes with foil on top and 20-25 minutes with foil off.
-I put it under the broiler for 3-5 minutes until it was perfectly crispy on top.

IT WAS DEVOURED. And you can use that sauce for other things, like mac and cheese! Or a homemade Hamburger Helpers!

It would have also tasted even better if I added some meat (think crispy bacon (!!), pieces of ham, crumbled sausage, or cooked and seasoned ground beef) but the host was making a beef dish and so I didn't add any meat.
Preheat oven to 350°F.
Boil potatoes until just tender, 20-25 minutes; drain.
When cool enough to handle, peel and dice into 1/2 inch pieces.
Put potatoes in 3 qt round casserole or rectangular baking dish.
In a large saucepan, melt butter over medium heat.
Add flour; stir while cooking, 1-2 minutes.
Whisk in milk and add garlic.
Season with salt and cayenne pepper.
Stir in cheddar cheese and all but 2 tbs parmesan cheese.
Add potatoes to sauce and stir to mix evenly.
Pour into casserole dish.
Sprinkle remaining parmesan cheese over top.
Bake casserole 45 minutes or until potatoes are tender and dish is bubbling and lightly brown on top.
Let stand 5 minutes before serving.