teresas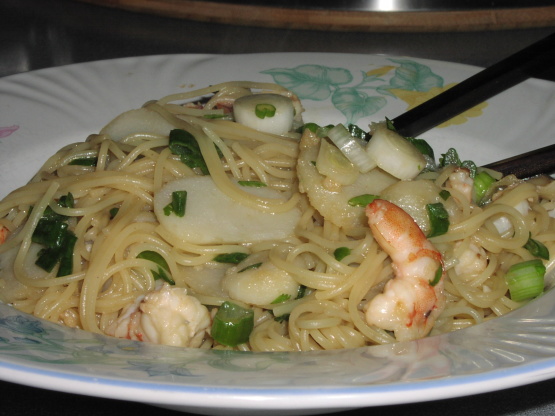 This is a good dish for seafood lovers. From Southern Living Magazine, May 2004

Very good, and light! I had to substitute Snow Peas for the Water Chestnuts, as I was out. Excellent sub in a pinch, especially in this dish! Great flavor. Family devoured it! Thanks for a great recipe!
.Place cooked pasta in a large bowl. Stir together soy sauce, vinegar, and sesame oil. Drizzle over pasta. Add green onions, water chestnuts, & cilantro to pasta; toss.
Sauté ginger & garlic in hot oil 1-2 minutes, do not let it turn brown. Add shrimp, lime juice, & pepper. Cook & stir 3-5 minutes, just until shrimp turn pink. Add to pasta; toss well.
To serve, top with peanuts.