Prep 10 mins
Cook 15 mins

Yet another, but this one differs from the others already posted, and it tastes great!. Very flexible, because you choose how you want to garnish: can be a side dish or a main dish. The dressing does contain lots of ingredients, but they are pretty common items and it is a good way to use lots of those things you might have purchased for asian recipes that are cluttering up the back of your refrigerator! Prep time DOES NOT include 30 minute chill time, so plan ahead.
Directions
Bring a large pot of water to the boil, remove from heat and add the rice sticks or egg noodles; cover and allow to sit (15 minutes for the rice noodles, 10 minutes for the egg noodles).
Drain and rinse under cold water; drain well again, then place in a large bowl.
Mix the dressing ingredients together in small bowl; pour over the cold noodles and mix well.
Add your desired garnishes and mix well.
Cover and chill at least 30 minutes to blend flavors.
Keeps well in the refrigerator up to a day before serving.
Most Helpful
This turned out great! I didn't have fish sauce, but substituted oyster sauce (which we love anyway!), used green spring onions and had the perfect noodle salad. Thanks for sharing, next time before letting it be devoured, I'll remember to take a picture to post here @ Food.com.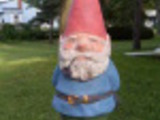 Thanks for a great recipe. I made it exactly as written, except for leaving out the scallion. I ended up chilling it for about an hour. DH added a bit of cucumber to his salad. So light and tasty!
This is a good salad. However, for me something was missing. I am a vegetarian so I made this meatless (which means no fish sauce) and it just seemed a little bland. I think that this dish would be delicious with chicken. The sauce has a kind of BBQ-like flavor and would pair nicely with chicken. The guests that I served this salad to, liked it, but I had a lot left over. Bottom line - salad was good but not breathtaking. Try this recipe if you want something totally different for your family.