Asian/Maryland Fusion Hard Cider Shrimp
teresas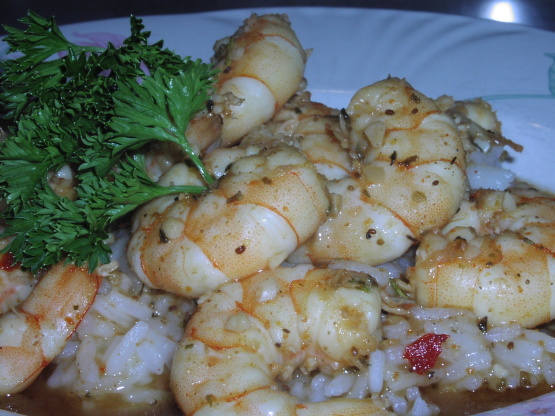 This was an experiment I tried for dinner one night, and it turned out incredibly well! It all started because I was craving shrimp scampi, but didn't have several of the necessary ingredients. Instead, I improvised. This is the result.

This is packed full of nice and spicy tasting ingredients that we just loved it! I wasn't sure if you were suppose to use the sauce or just eat the shrimp. So I decided to use the sauce. I did peel the shrimp and removed the tails (DH doesn't like them left on). I served this over rice and used about 1/4 of the sauce. I couldn't locate szechuan sauce at the store so made recipe #147645 and it worked great. Thanks for posting. :)
1

lb shrimp, cleaned, raw, and unpeeled

1

(12 ounce) bottle hard apple cider

1

tablespoon Old Bay Seasoning

2

tablespoons szechuan sauce

2

tablespoons hoisin sauce

1

tablespoon sriracha sauce

1

teaspoon garlic, freshly minced

1

teaspoon onion powder

1

teaspoon mixed Italian herbs, dried (basil, oregano, parsley, rosemary, etc)

1

teaspoon powdered hot pepper (optional)
Combine 1/2 bottle of the cider and the rest of the ingredients (except the shrimp and the powdered hot pepper) in a gallon size sealable bag or marinating container, and mix well.
Add shrimp to the marinade, and lay flat in refrigerator, marinating for about 15 minutes on each side.
Pour the rest of the cider into a medium/large saucepan (one big enough to lay out all of the shrimp in a single layer) and bring to a boil.
Reduce heat to medium, and add marinated shrimp, along with all of the marinade liquid. Spread shrimp out in a single layer. Sprinkle with half of the hot pepper, if you're using it.
Saute shrimp for about 5-7 minutes per side, keeping it moving (but not allowing them to overlap - gently shaking the pan occasionally does the trick). The shrimp are done once they are pink throughout.