Arugula-Carrot Rice With Shrimp-Tomato Sauce
IOjaw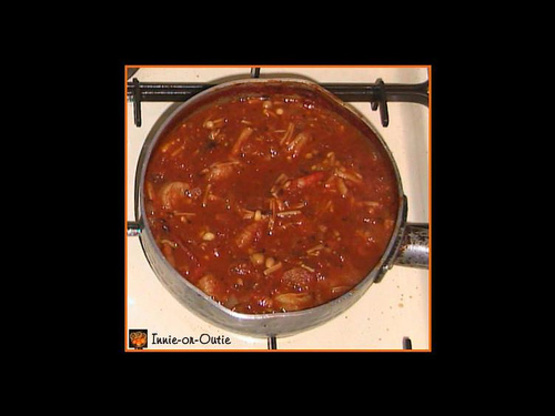 Another original fusion meal... NOTE: since sauces tend to taste better when given time to allow the flavors to merge, I started the Shrimp-Tomato Sauce base earlier in the day...
Shrimp-Tomato Sauce - Earlier in the day - in a small pot on medium heat, sauté onions in olive oil until translucent.
Add garlic, pepper, oregano, thyme, soy sauce, sugar, tomato paste, and tomatoes.
Bring to a boil and simmer for 20 minutes. Cover, remove from heat, and set aside.
***About one-half hour prior to serving, begin simmering sauce on low heat and add mushrooms and shrimp.
Arugula-Carrot Rice - Brown bacon in large skillet on medium heat until crisp.
Meanwhile, grate arugula and carrot in food processor.
Add butter and processed mixture to bacon in frying pan, lightly sauté.
Add rice and mix thoroughly.
Arrange the rice mixture in a mound around the edges of a serving plate, leaving the center hollow.
Fill the center with the Shrimp-Tomato Sauce.
***I topped the dinner with freshly snipped basil and served Parmesan cheese on the side.