Arrosto Insalata Di Cavolfiore Italian Cauliflower Salad
awalde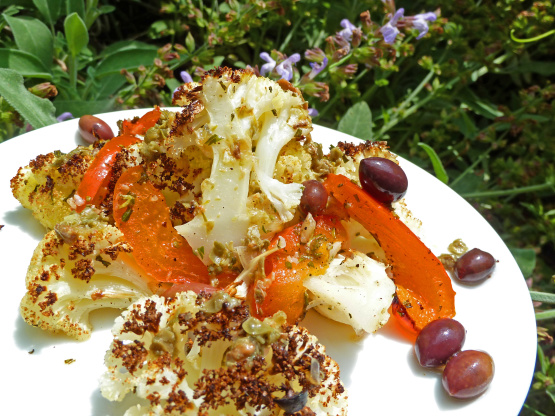 Yummy authentic Italian ingredients of black olives, anchovies and capers, make this the wonderful salad for an Italian menu.

Wonderful! And that's without the garlic (I forgot it). I added the herbs, fresh picked, along with the minimal oil and vinegar and no additional s&p to the roasted cauliflower and pepper and used the full amounts of anchovies and capers. Absolutely delicious and rich tasting.
Preheat oven to 425 degrees.
Toss cauliflower, peppers and garlic with just enough olive oil to coat and season with pepper and herbs. Can salt but take care because the anchovies, olives, and capers have salt.
Roast on a cookie sheet pan until crisp-tender about 20 minutes.
Cool about 20 minutes to room temperature.
Roughly chop the anchovies, olives and capers. Stir in the oil and vinegar.
Pour over the roasted veggies.