loof751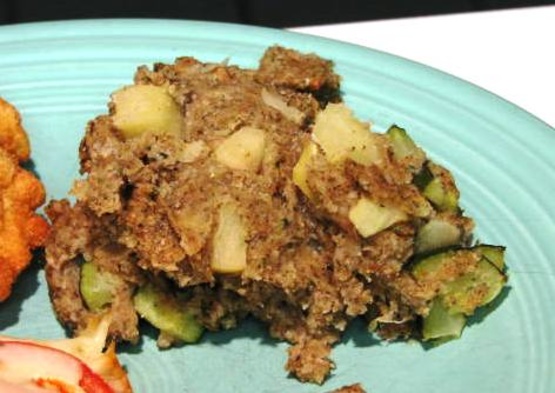 A delicious stuffing for your turkey (or whatever else your imagination can come up with that's stuffable)!
2 -3

tablespoons cooking oil
salt (to taste)

1

large zucchini

5 -6

apples

2

eggs

4

cups Italian seasoned breadcrumbs

4 -8

tablespoons sage

1 -2

tablespoon thyme
1⁄4 cup almonds, pieces (optional)
1⁄4 cup walnuts, pieces (optional)
1⁄4 cup sunflower seeds (optional)
Grate up zucchini, dice onion, peel, core, and chop up apples. In a frying pan head up oil on medium/medium low head. Mix zucchini, onion, and apple, put in fry pan, salt to taste. Steam veggies in the oil, about 10 minutes until all are soft.
In large bowl mix breadcrumbs, sage and thyme. (optional: add sunflower seeds, walnuts, and almonds). In separate bowl beat eggs until well mixed.
Add zucchini mixture to breadcrumbs. Mix well. Pour eggs over, mix well.
Stuffing is ready to go into the turkey, or whatever else you'd like to put it into.