Another recipe for the famous apple crumble.
Directions
Peel the apples and cut them to cubes or slices. Place them in a small pot and then add the lemon juice, the sugar, the water and the the spices. Boil in low heat until the apples are soft.
In a bowl mix by hand the sugar, the butter and the flour until they turn to crumbles.
Butter a pyrex and then place the apple mixture. Put the crumbles on the top.
Bake at 350 F for 20-30 minutes.
Let it cool for a while and dash the powedered sugar.
Most Helpful
My kids thought this was fantastic :) simple and delicious :) thank u so much :) *hugz* will definately keep this as a family fav and will be sharing this link with family and friends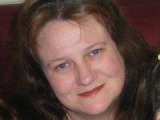 Please try this recipe of mine . It is deliciouse. Enjoy. My Apple Streusel Cake - Oct 08 Prepare : pre-heat oven 350 F /180C Spray with Pam Pyrex pie baking dish. Ingredients: 5 - 6 apples -peeled, cored and cut into 8 -10 pieces. 3 Tabls fresh lemon juice . 1 Thin slice of the lemon skin. 5 Tabls water, or 1 Tabls of butter. 1 Tabl full honey. 2 Tabls dark sugar. 1 Teasp vanilla extract. 1/4 teasp cinnamon. Directions: Put all the ingredients in a saucepan, bring to a slow boil, cover, lower heat and simmer for 5 minutes. Uncover pan and let it cool. *Note:* This I prepare a day before just to save time. 5 Petit Burr Biscuits, make crumbs - Put it in the prepared Pyrex pie dish as a first layer . Streusel Ingredients: 1/2 Cup butter -cold. ( 100 grams) 1/2 Cup sugar. 3/4 Cup broken hazel nuts. 3/4 Cup flour. Directions: Put all ingredients in your FP to make crumbs , don't over work. Assemble the cake.: On top of the biscuits crumbs scoop the apples, on top the streusel and bake for about 25 minutes. Cool slightly , and serve warm or at room temperature. Delicious. Enjoy. RP

Oh my, this was good! I went a little heavy on the cinnamon and skipped the powdered sugar altogether as I'm not fond of it. It was sweet and tasty enough without the additional sugar. And did I mention how good it was? :) Thanks for sharing!