gailanng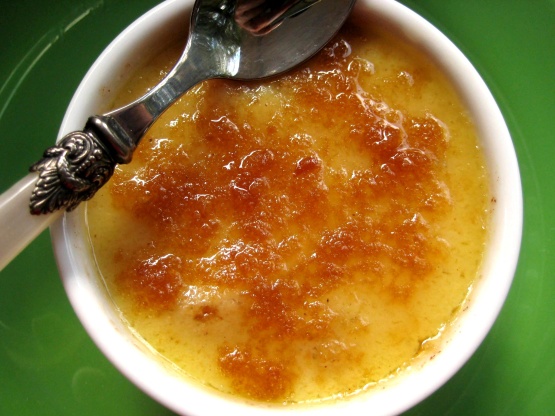 A little patience in preparing the custard will reward you with this elegant finale. Recipe taked from www.foodland.gov.on.ca
In a medium, heavy-bottom saucepan, combine apples, Crispin, Spartan or Empire Apples can be used, sugar, cinnamon lemon rind and nutmeg.
Cook over medium heat, until apples softened, stirring occasionally about 10 minutes. Spread this mixture into six, 6 ounce heatproof ramekins, and chill.
In a separate bowl, beat the egg yolks with sugar.
In the saucepan that you used for the apples, heat cream, until just before boiling, scraping down the apple bits and spices on the pan into the cream mixture.
Whisking constantly, pour in the egg mixture, and continue stirring until thickened, about 20 minutes.
Do not let it boil.
Remove from heat and stir in the vanilla.
Strain evenly onto the chilled apple mixture in each ramekin, and let cool.
Let cool overnight.
At least 1 hour before serving, and up to 1 day ahead, sprinkle custards with brown sugar.
Broil for 1 to 2 minutes until sugar melts and colours.
Chill until ready to serve.