Lvs2Cook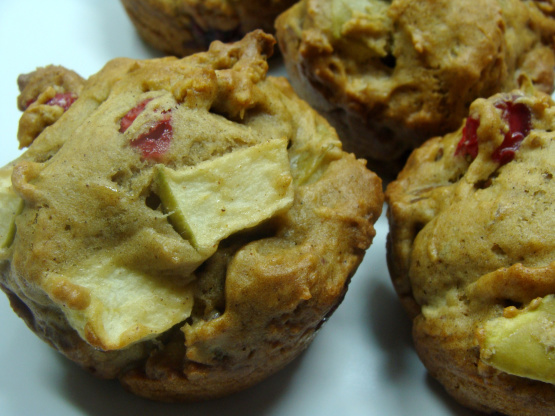 These muffins are part of our Thanksgiving tradition. Since we have many dishes for this holiday, I often make these muffins in mini-muffin pans and bake them only half as long.

Thanks for a delicious and flexible recipe! I used whole-wheat flour, added 1/4 c ground flax, apple sauce instead of oil, yogurt instead of sour cream, and 1 cup each of apples (1 large Cortland) and cranberries. My only change would be to double the cinnamon. These will definitely be remade.
In a large bowl, mix flour, baking soda, cinnamon and salt together.
In a medium size bowl, whisk eggs, sugar, oil, sour cream and vanilla until smooth.
Stir apple, cranberries, and walnuts into wet mixture.
Fold wet mixture into dry ingredients.
I use an ice cream scoop to measure batter into greased muffin cups .
Bake at 350 degrees for 20 to 25 minutes.