Apple Cranberry French Toast
Bergy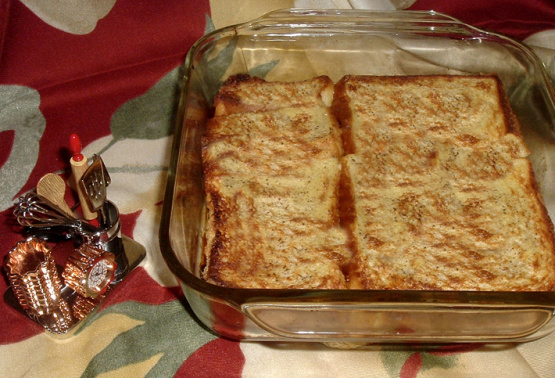 Served this as part of brunch for family gathering, it was a huge hit!!24 hrs in frige and 40 minutes cooking. from local newpaper.

Great recipe! I used 1 c. of maple syrup instead of brown sugar and it was delicious. We had it for Christmas breakfast! Thank you for sharing!
Combine brown sugar, butter and 1 teaspoon cinnamon in a 13 x 9 inch baking dish.
Add apples and cranberries, toss to coat well.
Spread apple mixture evenly over bottom of baking dish.
Arrange bread on top.
Mix eggs, milk, vanilla and remaining 2 teaspoons cinnamon until well blended.
Pour mixture over bread, soaking bread completely.
Cover and refrigerate 4 to 24 hours.
Bake, covered with aluminum foil, in a preheated 375 degree oven for 40 minutes.
Remove from oven, let stand 5 minutes, serve warm.