Apple Cheddar Walnut Bread
Debbwl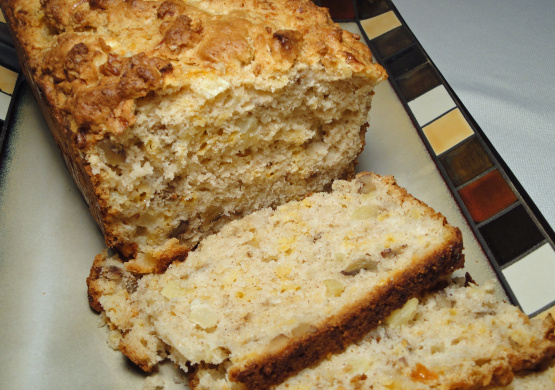 The classic apple/cheddar combination shines in this delicious bread.

Found this recipe many years ago in a magazine and hadn't made it since. This time, I used tart apples and sharp cheddar cheese. Really good!
Combine the self-rising flour, sugar, and cinnamon in a large bowl and mix well. Stir in the walnuts.
Combine the chopped apples, butter, cheese, milk, and eggs in a medium bowl and mix well.
Add the apple mixture to the flour mixture and stir until combined (batter will be lumpy).
Pour batter into a greased and floured 5x9 loaf pan. Bake at 350 degrees for 60-70 minutes. Cover loaf with foil during the last 15 minutes if necessary to prevent overbrowning. Invert onto a wire rack to cool.