Apple Butter Harvest Bars
flower7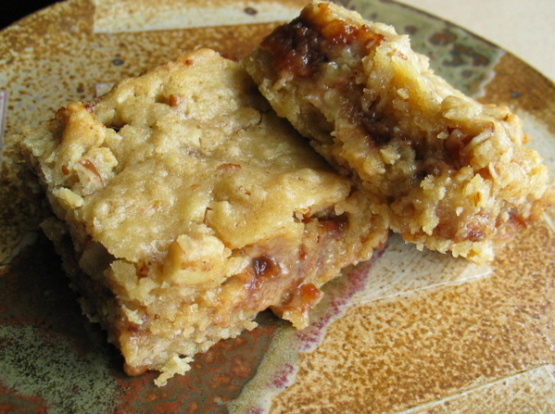 These are a great way to use up apple butter!! Credit: White Trash Gatherings: From-Scratch Cooking for down-Home Entertaining by Kendra Bailey Morris

Very good. I made a lot of changes because I was trying to lighten these up. I used brummel and brown spread instead of butter, reduced the sugars to 1/3 cup each, reduced the pecans to 2/3 cup, used the egg whites instead of the yolks, and used half ap and half whole wheat pastry flour. Also I added 1 tsp baking powder since I lost the leavening of the egg yolks. Made the bars to be 175 cal and 7 grams fat, 4 grams protein. I will make them again and stir in some protein powder to up the protein. If it works out, no more expensive store bought protein bars for me because these are great!! I'm sure the original is even better and truly decadent, but I'm on P90X:)
Preheat oven to 350 degrees and grease an 8x8 baking dish.
Cream butter and sugars. Add egg yolks and beat until fluffy. Mix in flour and salt and then stir in the oats and nuts. Press half of this mixture into the bottom of the baking dish.
Spread the apple butter over the dough to within 1/2 inch of the edge.
Sprinkle with pieces of the extra dough until the surface is evenly coated. Press down carefully but firmly to cover the apple butter.
Bake for 20 to 25 minutes or until light brown.
Cool and cut into squares.