MsBindy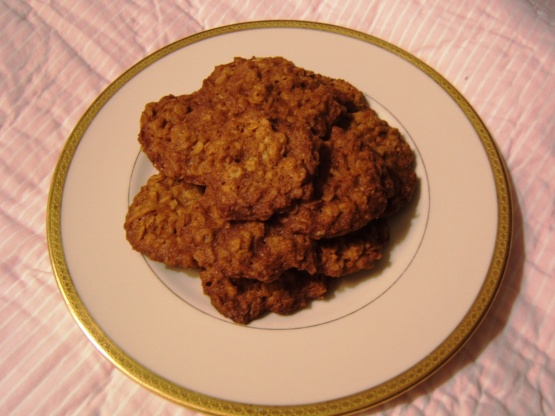 Another recipe from the New Zealand foreign exchange student who shared her recipes with our community. These look delicious!

The thing to remember with biscuits/cookies outside of the US, is that in places like New Zealand, biscuits are *crisp*. That's the norm, and the way biscuits are expected to be - in ones you make, in ones you buy. Soft biscuits are thought to be undercooked or not been stored properly in an airtight container, and thus they've lost their fresh crunchiness. So yes, these biscuits will be crisp, but that's how they're supposed to be. Also, the original recipe would have called for 'golden syrup' which is lighter in colour than molasses, and not as strong tasting. Molasses has been substituted due to lack of availability in US supermarkets of golden syrup.
Mix the flour, sugar, coconut and oats.
Melt the butter with the molasses.
Dissolve the baking soda in boiling water; add to the butter mixture.
Make a well in the center of the flour; add the liquid and stir well to combine.
Place spoonfuls on greased cookie trays and bake at 350 degrees F for 15-20 minutes.