Anzac Biscuits (Cookies)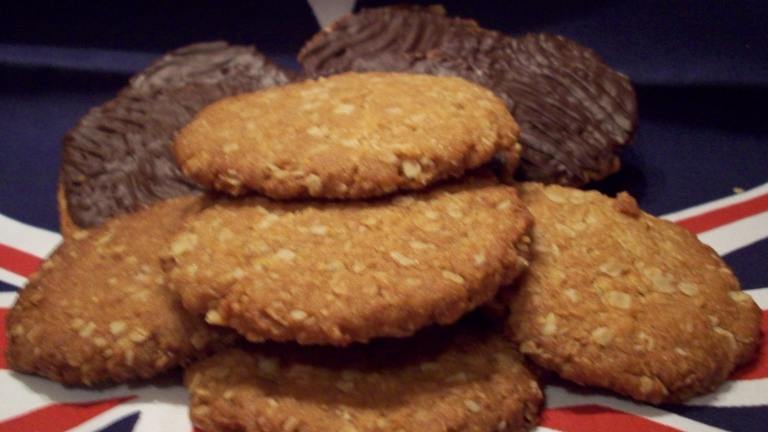 Anzac biscuits are a traditional Aussie biscuit that were baked by the wives and mothers during World War I and packed into food parcels to be shipped to the soldiers. They included basic staple items as food was rationed during the war and times were hard. Today they are enjoyed as a good everyday basic biscuit and many Aussies bake these cookies to remember our soldiers and history on Anzac Day 25 April. This recipe uses Australian metric measurements- 1 tablespoon = 4 teaspoons
Ready In:

40mins

Serves:

Yields:

Units:
Nutrition Information
directions
Preheat oven to 160C (if using fan-forced oven) or 180°C Line biscuit trays with a quality baking paper or lightly grease with butter.
Using a large mixing bowl -- combine the oats, coconut, flour and sugars.
Using a small saucepan or microwave -- melt the butter and golden syrup together. Set aside.
Using a cup -- mix the boiling water and bicarb soda together. Add this mixture to the melted butter. The mixture will foam up.
Add the butter to the dry ingredients and combine thoroughly.
Note -- if the mixture is too crumbly the biscuits will not hold together -- add a small amount of water. I've posted a photo of how I like my mixture to look. You should be able to get a tablespoon of the mixture and roll it together/push into shape of a cookie. Add too much water and your biscuits will flatten out totally during cooking.
Using your hands. Roll into balls and flatten slightly. These cookies do spread whilst baking -- so I usually place 12 to a cookie sheet/baking tray.
Place on baking trays and bake for 15-20 minutes or until golden brown. Cooking longer will give a crunchier biscuit or less time a softer biscuit. I like mine to be crisp. Total cooking time will depend on how many cookies/trays can fit in your oven at a time.
Cool on trays for 5 to 10 minutes before moving to a rack to cool.
If biscuits are too soft they can be returned to the oven and cooked further.
Submit a Recipe Correction
RECIPE MADE WITH LOVE BY
"Anzac biscuits are a traditional Aussie biscuit that were baked by the wives and mothers during World War I and packed into food parcels to be shipped to the soldiers. They included basic staple items as food was rationed during the war and times were hard. Today they are enjoyed as a good everyday basic biscuit and many Aussies bake these cookies to remember our soldiers and history on Anzac Day 25 April. This recipe uses Australian metric measurements- 1 tablespoon = 4 teaspoons"
Join The Conversation
O.K................... nearly the same recipe as I use...... Measurements and times are a little different, was all EXCEPT... the one small difference..... brown sugar! Now I was making mine yesterday and nearly ran out of sugar, and wondered, what would be the difference if I used brown sugar....shell I tell you all? <br/>The diffence is ......... DAAAA DAHHHH!!!!! <br/>Brown sugar makes the biscuits a little chewier & softer than normal sugar, so this recipe is great for half the family!!! lol<br/>Two of us like firm and crisp the remaining two prefer theirs soft and chewy ....SO, this recipe was great to try, the ones that like their Anzacs soft & chewy (ssshhh but they prefer the supermarket ones, bacause they are softer than eat mine) LOVE, LOVED, LOVED these Jules.<br/>So now because of you Jules I have to make two batches each time....... sheesh!<br/>Once again Jules you have posted a great recipe....Thanks from 2 of the family!

I've never made Anzac biscuits before, and I have to say that I've been missing out. These are just wonderful- sweet, buttery, crunchy on the edges, and have great texture from the oats and coconut. Mine spread quite a bit, I'll flatten the dough less next time. I used a cookie scoop instead of hand rolling, and got 21 cookies from a half recipe. These are definitely a keeper! <br/>Made for ZWT8.

I've seen Anzac recipes and finally decided to make a batch for ZWT8. Wish that I'd tried them sooner because they are delicious. I made a half recipe and subbed Splenda for the sugars and a heart healthy margarine for the butter. These puppies do spread but after reading Peggie's review I was ready for them and juat put 12 on a sheet. I got 24 beautiful and yummy biscuits :D. Made for ZWT8