Amy's Chicken Divan Casserole
CandyTX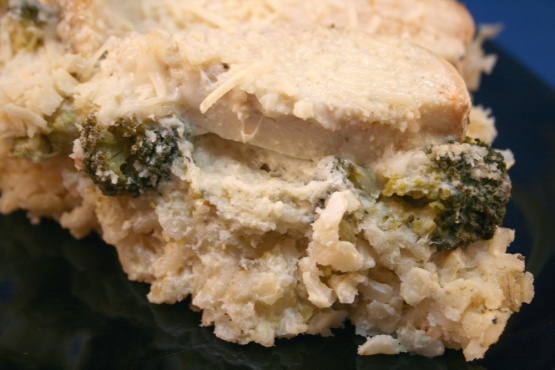 I love putting chicken divan together in one, simple and delicious casserole. The flavors are mildly distinct, yet maintain a fresh, light flavor. My mother always made this from scratch, and there's no other way to get that rich, full flavor. I make this more fiber/calorie-friendly by substituting white whole-wheat flour, fat-free and low sodium chicken broth, and fat-free half-and-half. Feel free to adjust the lemon juice, sherry or parmesan cheese to your liking. Serve with caesar or tossed salad. Enjoy!
Place 4 cups water and the 2 cups rice in a large pan. (I add 2T. olive oil, 1 t. salt and ½ t. pepper for a more flavorful rice.) On high heat, cover the rice and allow it to come to a boil. Once it boils, stir, reduce heat to low, cover tightly with lid and let cook for 35-40 minutes, undisturbed. Remove from heat and let sit for 5 minutes. Fluff with a fork and set aside.
While rice is cooking, place chicken on a baking pan. Rub the chicken with olive oil, salt and pepper. Roast in a pre-heated 375 degree oven for 25-30 minutes. Let rest for at least 10 minutes before slicing.
While chicken and rice are cooking, begin to boil the water for the broccoli. Add the broccoli (and 1 t. salt), allowing it to cook just until the color is bright green, about 2-3 minutes. Drain the broccoli and immediately place in a large bowl of cold water to completely stop the cooking. Drain and set aside.
In a heavy saucepan on medium-high heat, melt the butter. Using a whisk, add the flour and cook for about 3 minutes, stirring constantly. Add chicken broth and whisk together until the sauce begins to thicken. Add the cream, ¼ cup of the parmesan cheese, sherry, lemon juice, and the seasonings. Mix together. Reduce the heat to medium. Stir for an additional 5 minutes, allowing the flavors to blend together.
Grease a 10x13 casserole pan. Assemble the casserole: rice on bottom, followed by a layer of broccoli, pouring half of the cream sauce over the broccoli. Add the sliced chicken, followed by the remaining cream sauce poured over the top. Sprinkle casserole with the bread crumbs and the reserved ¼ cup parmesan cheese. Bake, uncovered in a 375 degree oven for 45 minutes.