Parsley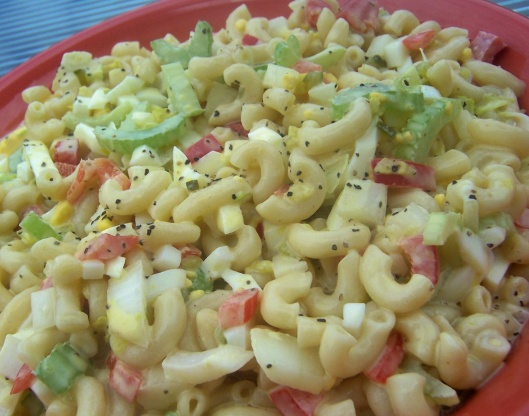 This is from Amish Recipes.Net. It's an hour chill time not cooking.

I've been using your recipe for years without doing a review! As written it's pretty good. I take out the red bell pepper, change the dill to sweet peppers, change the vinegar to milk and add a can of drained tuna. Then it's exactly what my mom used to make! Thank you for giving me a recipe to work from to create my mom's!!
Bring a pot of lightly salted water to a boil.
Add macaroni, and cook for 8 to 10 minutes, until tender.
Drain, and set aside to cool.
In a large bowl, stir together the eggs, onion, celery, red pepper, and relish.
In a small bowl, stir together the salad dressing, mustard, white sugar, vinegar, salt and celery seed.
Pour over the vegetables, and stir in macaroni until well blended.
Cover and chill for at least 1 hour before serving.