Amelie's Salted Caramel Brownies
Prep 40 mins
Cook 25 mins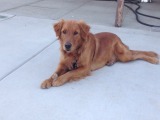 Amelie's French Bakery in North Carolina has been known for their Salted Caramel Brownies since they first opened their doors. The recipe was printed in Charlotte Magazine and supplied by Amelie's. I'm posting here for safe keeping. When making these brownies here are some important tips: * Be sure to use foil to line your pan. Be sure to butter the foil well ; really well, this way you can lift the entire sheet of brownies out of the pan and onto a cutting board to cut into bars, which will allow you to make cleaner cuts and make prettier brownies. * Do not overbake. It's suggested to bake the brownies for exactly 25 minutes, but keep an eye on them. * For the caramel, be sure to babysit the water and sugar mixture when boiling. It starts turning light brown after 5 minutes or so, and turns amber quickly after that. * Chill the brownies to set the caramel. * You may choose cut and place individual brownies in paper muffin/cupcake tin liners. It prevent brownies from sticking together. ******PLEASE NOTE: TIMES ARE ESTIMATES ONLY******
Directions
Brownies:.
Heat oven to 325 degrees F. Line a 9-by-13-inch pan with foil and then butter well.
In the top of a double boiler over medium heat, melt chocolate and butter, being sure the water in the bottom of the double boiler does not touch the top pan. Stir chocolate and butter until completely melted. Then stir in sugar. Blend well. Remove from heat.
In a separate bowl, lightly whisk eggs. Stir eggs into chocolate mixture. Then add flour, stirring until completely blended. Spread batter into prepared pan and bake for 25-30 minutes.
Completely cool brownies in pan. Pour caramel glaze over brownies and cool in fridge until caramel sets. Slice into bars, about 2 inches square.
Salted Caramel Glaze:.
In a small saucepan over low heat, warm heavy cream until hot, but not boiling. In a separate tall saucepan, combine sugar and water. Place over medium-high heat. Do not stir as sugar dissolves and mixture reaches a dark amber stage. Add cream, butter, and salt. Stir gently until mixture is smooth and well combined. Remove from heat and add gelatin, stirring to combine. Use immediately.
Reviews
Most Helpful
This didn't work for me. The brownie layer was delicious, but I thought there was too much caramel and mine was very, very sticky and stringy. Maybe I didn't have the right kind of gelatin powder.
Tried this recipe out today and it came out decent. As StormyLee mentioned, when you add the cream the pot bubbles a lot. And once you create the caramel glaze, you have to use it quickly. Mine came out really well, very thick, buttery and salty.

The problem I had was with the brownie itself, it came out a bit grainy i.e. sugar grains. I wonder if confectionary sugar might work out better?
Incredibly rich and absolutely delicious: a little piece goes a long way! The taste combo of dark chocolate and salty-sweet caramel is amazing - I think I'm hooked now! I used semi-sweet chocolate and reduced the amount of sugar accordingly; also used Maldon salt instead of fine salt, but otherwise followed the recipe. Note that when you add the cream to the sugar mixture, it bubbles up like you wouldn't believe! So, beware: the recipe calls for a tall saucepan for a very good reason. ;-) For me, the glaze never set, at all - I don't know if there are differences in gelatin powder and I would have needed more, or...? The next time I will just leave the gelatin out and serve the caramel sauce separately, to pour on top of each brownie when it's safely on the plate. :-) Thank you Q&A's Mom!