Amazing Sweet Potato Salad
Hadice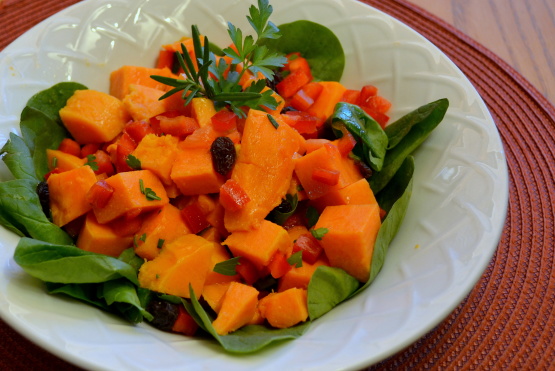 From Extraordinary Health magazine. Serve chilled or room temperature in the hotter months and warm in the colder months.

Top Review by Hadice
How very interesting! I was really impressed with the different dimensions of flavors. Sadly, I didn't have any almonds, but everything else came together really nicely. I loaded up on the black pepper to balance out the sweetness. Served over spinach. Would be a great picnic salad, great for a luncheon, for do as I did and enjoy as a light dinner. Veg Swap Oct '11.
*Note: if the weather is hot and you prefer, the sweet potatoes can be diced and browned in a little bit of oil in a pan on the stove top rather than roasted.
in an oven.
*Preheat oven to 400 degrees.
Roast the sweet potatoes for 45 minutes or until fork tender.
Set aside to cool then dice.
If desired, line the salad bowl with greens of your choice. Place the sweet potatoes in salad bowl.
Add the other ingredients except for the almonds. Season with salt and pepper to taste.
Serve immediately or cover and chill until ready to eat.
Just before serving, garnish the salad with the almonds.