Almonds, Mushrooms, Raisins and Red Pepper Pilaf
Annacia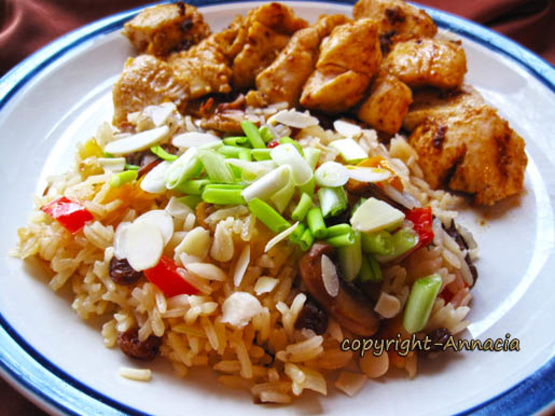 This is a very easy and very very tasty rice pilaf. It is a perfect side dish for any meal. I hope you will enjoy this dish.

What a wonderful dish and what a beautiful presentation as well. Loved every ingredient and didn't and wouldn't change a thing. We had a very quiet dinner tonight which is an indicator of how much we enjoyed this dish. Served it alongside your recipe#501185 and a green salad. Can't wait to serve this to my extended family and friends. And, it's going right into my Best of 2013 Cookbook. : )
Melt 1 tbsp butter in saucepan, add mushrooms and saute 3 minutes over high heat, remove mushrooms and reserve.
Melt remaining butter, in same pan, add onions and peppers, saute until soft.
Stir in the salt, thyme, rice and broth.
Bring mixture to a boil, cover, lower heat and simmer for 20 - 25 minutes, until all liquid is absorbed.
Remove from heat, add in the reserved mushrooms, almond slices and raisins.
Mix well, pour into a nice dish, season with freshly ground black pepper and garnish with finely chopped green onions.