RuPei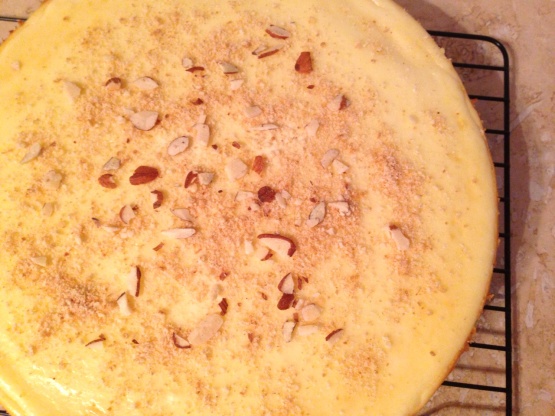 I love almonds and cheesecakes. So I baked it. Loved it!!!!!
2

cups whole wheat cracker crumbs

7

tablespoons unsalted butter, melted

4

(8 ounce) packages cream cheese, softened

1

cup white sugar

1

cup Greek yogurt

2

teaspoons almond extract

2

eggs

2

eggs, egg white from them

1

tablespoon whole wheat cracker crumbs, for garnish

2

teaspoons chopped almonds, for garnish
Combine cracker crumbs and butter. Press onto bottom of a 9 inch round cake pan.
In a deep mixing bowl, beat cream cheese and sugar on medium. Scrape cheese and sugar that stick around the bowl and continue to beat in high until blended.
Add Greek yogurt and almond extract into the bowl and mix well. Continue to add eggs and egg white, one at a time. Mix on low until it is just combined. Please do not over mix.
Pour batter over the cake pan. Bake for 40 minutes or until center is almost set. Turn off the oven and let cheese cake continue to be baked by the heat. Do not open the oven until the cheese cake cool in the oven, about 2 hours.
Top with cracker crumbs and crumbled almonds. Refrigerate for at least 4 hours before serving.