alligirl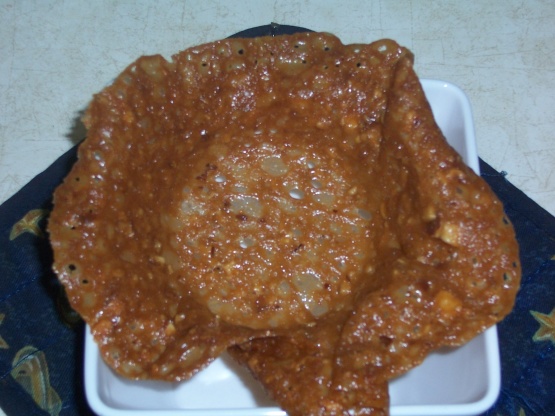 From the Italian Inn Cookbook. I just love these, there are so many possibilities. They are fun, and most of all delicious.

These were really good and easy to make. I doubled the recipe to make 12 larger bowls, putting two cookies on each pan instead of four. I found it easier to remove the pan from the oven, cut the parchment in half, let it sit a minute or so . Then just pick up parchment and cookie together, invert it over the bowl, snug it into shape and then peel off the parchment. No messing around with spatula and messing up the cookie if it's still too hot. If you let it sit too long, just put it back in the oven for a minute to soften, then drape over the bowl.
In a small bowl combine the flour and almonds. Set aside.
In a medium medium saucepan bring the brown sugar, corn syrup and butter to a full boil over medium heat. Remove from heat. Stir in flour mixture and vanilla.
Line a large cookie sheet with parchment paper. For each cookie cup, drop about 3 tablespoons of batter about 5 inches apart onto the cookie sheet (bake 3 or 4 at a time).
Bake in a 350º oven for 10-12 minutes or until bubbly and deep golden brown (cookies will form irregular shapes).
Let stand on cookie sheet about 2 minutes. When cookies are firm, but still pliable, place them on inverted custard cups to form small bowls. Cool to room temperature.
To serve fill the cups with ice cream, sorbet, mousse, or whatever dessert you would serve in a bowl where you can eat the 'bowl' too!