Albanian tossed salad is a Greek influenced dish that became very popular throughout Albania. The main ingredients of Albanian tossed salad are romaine lettuce, red leaf lettuce, feta cheese, black olives, tomatoes, onions and mushrooms. Enjoy!
1 head romaine lettuce, rinsed, dried and chopped (can substitute with red leaf lettuce or use mix of both)
1 small red onion, thinly sliced (( like to chop small)
1 (6 ounce) can pitted black olives, sliced
1 red bell pepper, chopped
2 large tomatoes, chopped
1⁄4 cup sliced cremini mushroom, sliced (optional)
1 cucumber, chopped
1 cup crumbled feta cheese
1⁄4 cup sliced almonds, toasted (or or and sesame seeds, toasted)

Dressing

6 tablespoons olive oil
1 teaspoon dried oregano
1⁄4 teaspoon paprika (optional)
1 lemon, juiced
ground black pepper, to taste
Directions
Toast almonds or sesame seeds in a dry skillet for 3 minutes or so, stirring and watching carefully so as not to burn. Set aside.
Add lettuce, red onion, black olives, green bell pepper, tomatoes, cucumber, mushrooms(if using) and Feta cheese to large serving bowl.
In a small bowl, whisk together olive oil, dried oregano, paprika, fresh lemon juice, and ground black pepper.
Pour vinaigrette over vegetables and serve immediately.
Most Helpful
Delicious salad! I love the flavor combinations. The dressing was the perfect complement to the salad ingredients. I'll be making this one often. Thanks!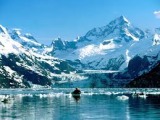 This is a great salad. So tasty. I didn't use the almonds. I used red bell pepper and the optional paprika in the dressing. I will be doing this salad often. Me and DH liked it so much. Thanks Sharon :) Made for PRMR tag game
This has delicious veggies and a nice tart dressing. I prepped the salad ahead and laid out much like a summer chef salad. The lemony dressing was added at serving time. I served with Pa Amb Tomaquet (Tomato Toast) while participating in My Food Odyssey.