Airy Chocolate Coconut Cream Pie
Rita1652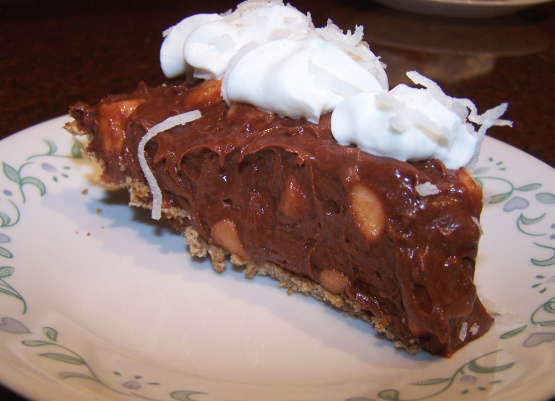 Pretzel crust giving this pie a salty crispness. Filled with a creamy, rich chocolate flavored with coconut and tiny airy marshmallows floating throughout.

This pie reminds me of rocky road ice cream, but with coconut. It's delicious. I wouldn't change a single thing about the filling. But I have to admit the crust was just a little crumbly. I think using just a bit more butter would make it hold together much better. The idea of using pretzels is genius. Love it.
Crust:.
Preheat oven to 350 degrees.
In a food processor pulse the pretzels, brown sugar, spice powder, till fine pieces. Add butter and pulse to mix.
Spray a 9 inch pie pan and spread the crust mixture in pan pressing to the bottom and sides. Bake 10 minutes and cool completely.
Filling:.
In a mixer beat the coconut milk and sour cream mix in the milk. Blend in pudding mix. Fold in coconut flakes, marshmallows and whipped cream.
Pour into pie crust and refrigerate for 3 hours. Garnish with whipped cream and coconut flakes.