$50 Chili - for the Crockpot
motoxer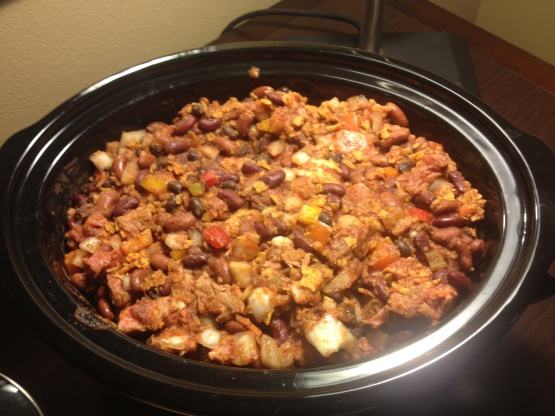 First, thank you to *Parsley* - Chef # 199848 - for inspiring me with her "Thick and Chunky Crock Pot Game Day Chili," Thick and Chunky Crock Pot Game Day Chili. I had tried about 20 different recipes for Chili, and *Parsley*'s was the best. But I've been tweaking it for a year and a half now, and I think I did it! This chili is medium to medium-hot, not very sweet, hearty and stew-like, with depth and a delicious aftertaste. I make in a 7-quart crockpot, for my large family. If you like your chili sweeter, use a red onion instead of a white onion; add more brown sugar; and/or add more chocolate chips. Be careful: a little chocolate - just like cumin and cinnamon - goes a looonnnngggg way!

We tried this chili tonight, and it was FANTASTIC! Not too spicy, not too mild. Although the addition of chocolate to the recipe sounds odd at first, I must say that it adds that little "something" that you didn't even know was missing! I would highly recommend this recipe!
1 1⁄2 lbs stewing beef, cut into 1/2-inch to 3/4-inch cubes
1 1⁄2 lbs stewing pork, cut into 1/2-inch to 3/4-inch cubes

1

big white onion, chopped

3

small bell peppers, chopped, I like to use 1 each of red, yellow, and orange

1 -2

orange habanero pepper, chopped, careful, these are HOT
1 -1 1⁄2 tablespoon spice world chopped garlic

5

(15 1/2 ounce) cans beans, I use 2 cans dark red kidneys, 2 cans light red kidneys, and 1 can black

2

(16 ounce) jars chunky salsa, medium (I like Pace)

1

(6 ounce) can tomato paste

1

(14 1/2 ounce) can beef broth
1 1⁄2-2 cups crushed tostito tortilla chips

1

chicken bouillon cube, crushed

1

beef bouillon cube, crushed
1 1⁄4 teaspoons sazon goya
1⁄8 teaspoon cinnamon

5

teaspoons Mexican chili powder

4

teaspoons cumin

1

teaspoon ground coriander

1

teaspoon black pepper

1

teaspoon salt

1

tablespoon light brown sugar

5 -10

dark chocolate chips, yes, between 5 and 10 chips, depending on desired sweetness
Combine all ingredients in a 7-quart crockpot. It might be easier to combine in a larger vessel, mix, and THEN transfer to your crockpot. Cook on "High" for 5 hours, or "Low" for 8 hours.
I typically serve the chili over a bed of whole Tostito chips, with a layer of shredded cheese in between.