2bleu's Sweet Chicken and Gravy
2Bleu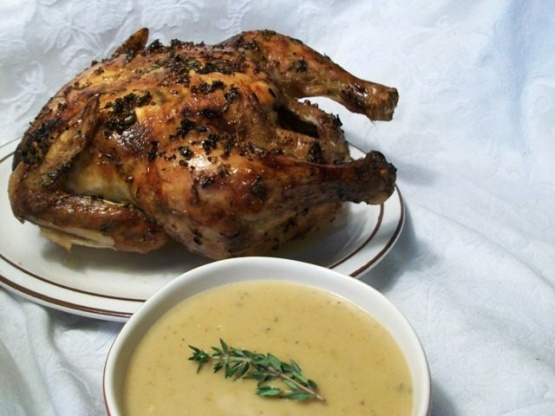 This is only the second recipe I've actually purchased a whole chicken for because I really didn't see how I could sub in skinless breasts without changing the taste. The kids loved it, but I have a feeling it's because it was so sweet. Everyone ate, but it felt like there was missing something that I couldn't put my finger on. All the same very tasty, but I'm not sure if all the work involved was worth the outcome, I'd have to think of a way to not use a whole chicken if I was to make it again.
Preheat oven to 400°F In a small bowl, mix the butter, garlic, and half of the thyme. Gently lift the skin from the chicken with your fingers and carefully slide some of the herbed butter underneath the skin. Spread remaining seasoned butter all over the outside of the chicken.
Mix the honey, vanilla, salt, pepper, a other half of the thyme, and chicken broth in a microwave safe bowl. Microwave for 30 seconds or till warmed thru.
Place the chicken into a roasting pan and pour the honey mixture over the chickens and into the pan. Cook for 1 1/2 hours or until the internal temperature reaches 165°F (Cover loosely with foil if the bird is browning too quickly.
Remove from the oven. Drain pan to get the juices (broth) and return the chicken to the oven. Continue cooking to an internal temperature of 180°F.
Using a spoon, skim off the excess fat from the broth. (You should easily have yielded 1 cup). Pour the broth into a saucepan on med-high heat and simmer for about 2-3 minutes.
In a small bowl, mix milk and flour. Add to simmering broth along with the 3 tbsp of butter. Stir or whisk gently and consistently until thickened. Remove from heat to a gravy dish and top with the reserved sprig of thyme. Remove chicken from the oven and let sit about 5 minutes before serving with the gravy.