Zucchini Pineapple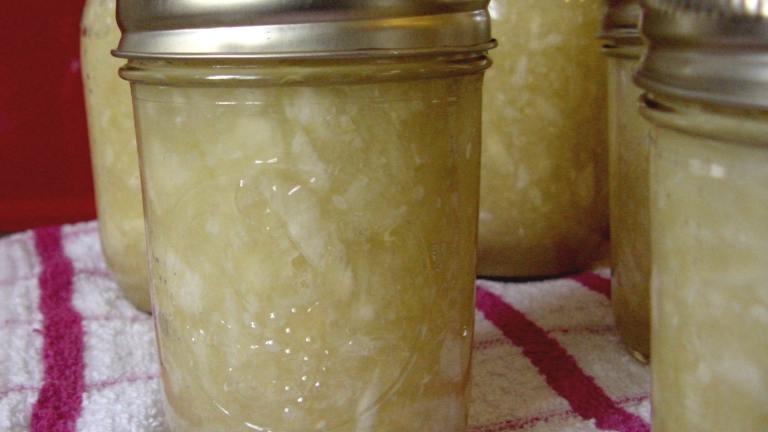 Ready In:

50mins

Yields:

Units:
directions
Bring juices and sugar to a boil.
Add squash and simmer 20 minutes.
Pack and seal in hot jars and lids.
Makes 12 pints of crushed pineapple.
May be used as you would regular pineapple.
Submit a Recipe Correction
Thank you thank you thank you! What a wonderful recipe! Didn't have time to shred a whole 18 cups of zucc so I did 3/4 of the recipe and got 7 pint jars. I was skeptical that it would taste just like pineapple but it DOES! The texture was just like pineapple as well, at least what I tasted before putting it into the jars. This is definitely a keeper, a great way to make use of extra zucchini and an awesome sweet treat for long term storage.

I saved this recipe a while back before I got more informed about canning. Since then I've had the fear of life put in me not to use recipes that haven't been officially tested, and with this containing zucchini which is low acid I was afraid to try it. Good news! I found a similar recipe in Nat'l Center for Home Preservation's list. There is a slight difference though. Same amount of pineapple juice but more lemon juice which could make a difference. 1.5 cups bottled lemon juice and 4 qts cubed or shredded zucchini. I'll have to give it a try once I get some zucchini. ETA... made a triple batch of this with huge zucchini. A friend and I split the goods in the end. I think its a keeper but will try with younger zucchini. The large ones are too spongy so the texture doesn't work as well as it could. Younger zukes would mimic the pineapple better. I've had this on pizza and inside fruit salads etc and no one could tell the difference.

This is wonderful! I made this last summer and found that I used it quite a bit over winter, was perfect in recipes. I actually use it to make pineapple zucchini bread, which in reality turns out to be zucchini zucchini bread :) It's a wonderful way to use up those monster zucchini from the garden, and is such a great thing to have on hand for all your recipes that call for canned pineapple. Thank you!!