Vineterta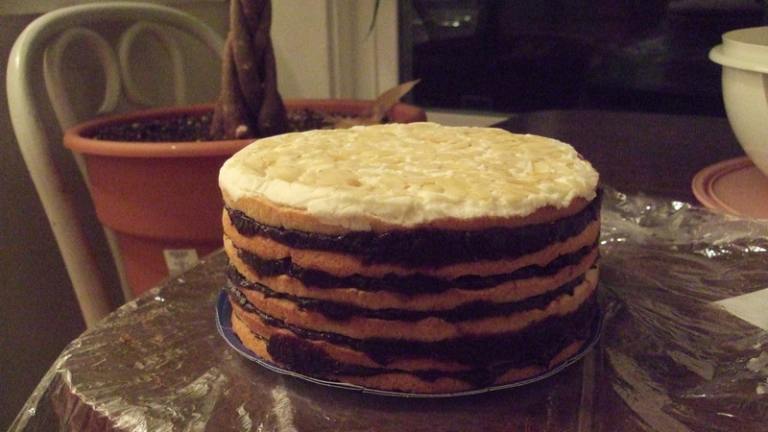 A traditional Icelandic prune torte - though the name means "Vienna Torte".
Ready In:

2hrs 50mins

Serves:

Yields:

Units:
ingredients
20 -24

ounces prunes (pitted)

1

cup sugar

2

teaspoons cinnamon

1

teaspoon vanilla extract

1

cup butter
1 1⁄2 cups sugar

2

eggs

1

teaspoon almond extract

2

tablespoons light cream

4

cups flour

1

pinch salt

1

teaspoon baking powder
1⁄2

cup ground almonds (optional)

1

teaspoon cardamom (optional)

3

tablespoons butter (softened)
3⁄4

cup powdered sugar icing

2

teaspoons light cream

1⁄4

cup ground almonds (optional)

1⁄4

cup sliced almonds (optional)

1⁄8

teaspoon almond extract
directions
First, prepare the prune filling (this can be done way ahead of time):

Cover 20-24 ounces of pitted prunes with boiling water in a saucepan.
Once the prunes are softened, drain the water and put it aside for later.
Puree prunes in a food processor and put them back into the saucepan.
Add half cup of the reserved prune water to the puree and bring it to a boil over medium heat. Mix in 1 cup sugar and 2 tspn cinnamon.
Boil off excess water until the mixture has the texture of jam (we will be spreading it). If the mixture is too thick, add in more reserved prune water.
Remove from heat.
Mix in 1 tspn vanilla extract.
Set aside to cool.

Next we do the second major section, preparing the layers:

Mix the following wet ingredients together in a mixer: 1 cup butter, 1.5 cups sugar, 2 eggs, 1 tspn almond extract, 2 tbsp light cream.
Mix dry ingredients in another mixing bowl: 4 cups flour, 1 pinch of salt, 1 tspn baking powder, 1/2 cup ground almonds (optional), 1 tspn cardamom (optional).
Add dry ingredients into the wet ingredients and mix well in the mixer.
Remove the doughy mixture from the mixer and knead it around 10 times on countertop until it binds together. You will barely need to knead this, as it is not leavened.
Chill dough for 20 minutes in refrigerator.
Spread the dough into six 9" ungreased circular pans with palms until spread evenly across the bottom. If you don not have 6 pans, you can repeat this process 6 times with 1 pan, it will just take longer (or 3 times with 2 pans, et cetera).
Bake at 350F for 20 minutes. (Jump ahead and do the icing if you are impatient.).
Pop the layers out of the pans and cool on cooling racks.
When all 6 layers are complete, assemble layers and prune filling by starting with a layer for the bottom. Spread on 1/5th of your filling onto the base layer, then add another layer cake, add another 1/5th - etc. repeat until your vineterta is complete.
Prepare your icing by mixing the following with a beater in a mixing bowl: 3 tbsp softened butter, 3/4 cup powdered icing sugar, 2 tspn light cream, 1/4 cup ground almonds (optional), 1/8 tspn almond extract.
Spread the icing on top of the vineterta.
Decorate with icing with the sliced almonds.
Chill everything and let it set.
This torte may be kept in the fridge for extended length of time and is better for having been "aged" in the fridge for at least a couple of weeks to a month.
When serving slice into small rectangular pieces (about 2" by 1", or smaller) and serve cold.
Submit a Recipe Correction
RECIPE MADE WITH LOVE BY
"A traditional Icelandic prune torte - though the name means "Vienna Torte"."
The baking time of the cakes is WAY off. I baked the first two for twenty minutes and they were burnt. By the third set I was down to 15 minutes and it was still quite brown. The saving grace is that the plum jam is absorbed nicely into the cake, so the overcooking was was not much of an issue. The flavor is good, I might go a bit more on the cardamom. The layering looks lovely when all is said and done. Everyone enjoyed the vinetorte!