Unicorn Cake Truffles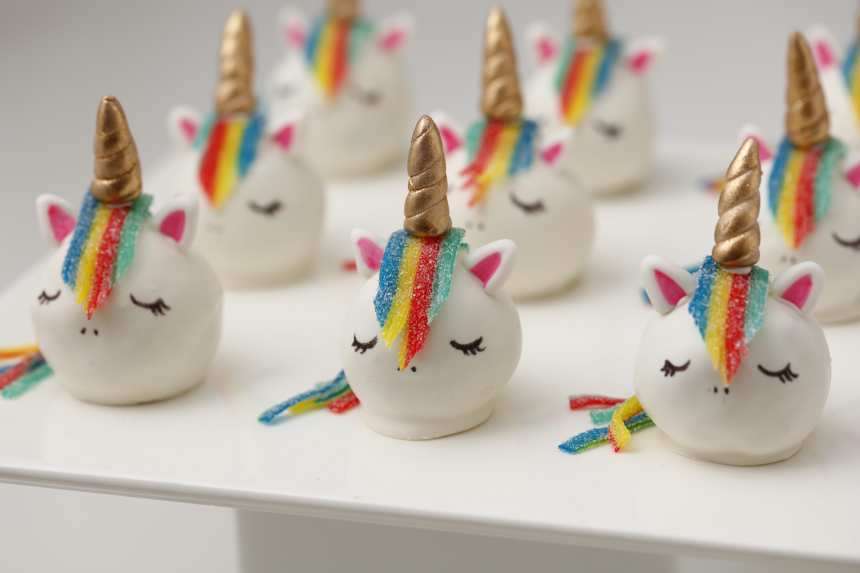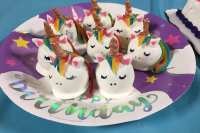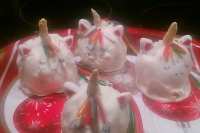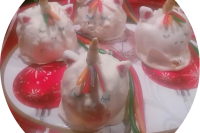 Ready In:

1hr 55mins

Ingredients:

12
ingredients
UNICORN TRUFFLES

1

(15 1/4 ounce) package white cake mix

3

eggs

1

cup water
1⁄2

cup vegetable oil

pink gel food coloring

purple gel food coloring

4

tablespoons white frosting, divided

DECORATION

24

ounces white melting chocolate

fondant

gold luster dust

20

sour rainbow belt candies

food coloring, writing pens (pink & black)
directions
SPECIAL EQUIPMENT:

1 (1 1/2-inch-diameter) ice cream scoop & 20 to 25 popsicle sticks.

FOR THE CAKE POPS:

Preheat oven to 350 degrees F. Line 2 (8-inch) round cake pans with parchment paper and spray with non-stick cooking spray.
In a large bowl, whisk together boxed cake mix, eggs, water and oil until well combined.
Divide the batter in half. Color one half with pink food coloring and the other half with purple.
Pour the pink batter into a prepared pan and the purple into the other. Bake for about 35 minutes, until a tester inserted into the center of the cakes comes out clean. Set aside to cool.
Once cool, crumble each cake into separate bowls. Add 2 tablespoons frosting to each bowl. Using your hands, mix the frosting with the crumbs until it all comes together.
Firmly press pieces of pink and purple dough into a 1 1/2-inch ice cream scoop. Roll into a ball between palms of hands. Repeat with remaining batter.
Chill in the fridge, about 30 minutes.

DECORATE THE CAKE POPS:

In a deep bowl, melt the melting chocolate in the microwave at half power using 30-second intervals.
Dip lollipop sticks into the melted chocolate and then into the cake truffles.
Let set 10 minutes.
Dip the truffles into melted chocolate. Carefully tap the pop on the side of the bowl to get rid of any excess chocolate. Place on parchment paper to set.
Roll out two cylinders of fondant 1" long 1/4" wide. Spiral them together and pinch at the top to form a horn. Repeat to create 20 horns.
Place a teaspoon of gold luster dust in a small bowl and toss the horns in the gold dust. Set aside to harden slightly.
Roll a small amount of fondant into two pea size balls. Flatten and pinch at the top to make 2 triangle ear shapes. Repeat to make 20 sets of ears.
Use a pink food writing pen to color a small triangle in the center of each ear.
Twist and pull the lollipop sticks to remove them from each truffle.
Cut 20 3-inch and 20 1-inch pieces of sour belt. Leaving 1/2" at the top, cut the longer belts, vertically between each color, into small strips. Cut the front of the shorter pieces into a triangle and then use small cuts inwards to create fringe.
Use melted chocolate to attach mane to the top of each truffle. Angle the longer piece to the side so the mane can be seen in the front. Use melted chocolate to attach front hair piece.
Use melted chocolate to attach the horn on the center top and ears on either side of the mane.
Use black food writing pen to draw eyes, eyelashes, and nose on the truffles.
Reviews
I have never liked making or eating this type of dessert.It is so Sweet and tastes like lard or a cube of Butter or Shortening. My Grandsons Love them however so I continue to make them with boys designs that they like. I had a little problem keeping them from falling off the stick so as soon as I got the cake cooled down, I mixed immediately with frosting as per recipe instructions stated then put them in the frig, oops, forgot 1 thing. I put some Melting Chocolate Wafers, Chocolate flavor for chocolate cake. I use white Chocolate in the mixture for other colors but it's up to you on flavors and colors you want your Cake Pops to be. Then I chilled the dough for up to 30 minutes. ***After that time, remove dough from frig and using either a small Cookie Scoop or teaspoon, start making balls out of the dough trying to keep the dough the same size. If they vary in size too much, some cookies will be raw and some will be burned that is why consistency is so important. A Cookie scoop is easy for consistency, just fill with dough, pack it in good, then level it off flat. If you are using a teaspoon to scoop the dough and are not an experienced Baker, You can practice by using a good scale and trying to get the same amount of dough each time. Practice different sizes of Balls then practice rolling them in your "Clean Hands". I hope this idea will help as far as the person not being able to keep Cake Pop on the Stick. It sounds like the dough is to wet.

 
RECIPE SUBMITTED BY
Hungry for good food AND great conversation? Food.com boasts a smorgasbord of over 500,000 recipes and a community-inspired activity feed that allows our users to add reviews, tweaks, questions and photos to their favorite recipes. Grab a plate and join the fun!
View Full Profile