Tres Leches Cake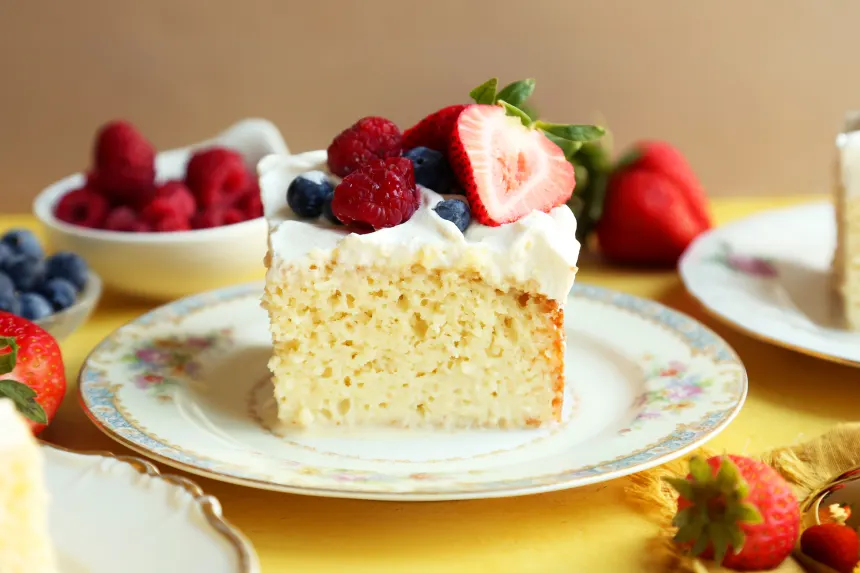 photo by Jonathan Melendez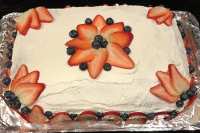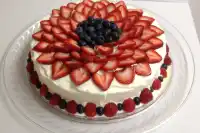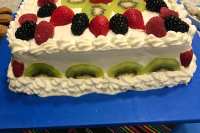 Ready In:

1hr 45mins

Ingredients:

14

Serves:

12-16
directions
Preheat oven to 350F and spray a 13 x 9" cake pan with cooking spray (Pam).
Mix cake ingredients together and pour into prepared cake pan.
Bake for 45-50 minutes until knife inserted in middle comes out clean.
Allow to cool for 20 minutes.
While the cake is baking, mix filling ingredients together and refrigerate.
For frosting, whip cream until soft peaks form; blend in sugar gradually and add vanilla extract.
When cake is done, allow to cool; then fill with milk filling.
You can poke holes in the cake or use a flavor injector.(I use a syringe since I am a nurse).
Frost with whipped cream and decorate.
Questions & Replies

Reviews
DELICIOUS! I used all ingredients and methodolgies as described in recipe. I used skewers to make holes all over the top right out of the oven. I then let it cool for 5 minutes and flipped it onto a cooling rack. I put more holes in the bottom. I then cut off all four sides. (I topped them with cinnamon and baked again making biscotti.) I returned to the 9 x 13 pan and let cool about 1 hour. I then poured the filling in little by little while schmearing / massaging it in with my hands. Twice, I poured the liquid that was in the bottom back into a measuring cup and repeated the massage / schmearing. Having done this, there was plenty of liquid in the cake and was the perfect texture to those I've had on my travels. DH and I had this the frst time on our honeymoon in Bonaire and I made this today to celebrate our anniversary.

 

Ok. First of all. YUMMMMM! made two of these and brought them into work and they were a big hit! the recipe is totally awesome! Now for the brilliant MISTAKE I made! the first cake I made I realized about 15 minutes into baking that I accidently omitted the oil!! (It was like 11pm at night...I almost cried) but decided to put my big girl panties on and roll with it. When the cake was done and cool I inverted it onto a cookie sheet, trimmed off the sides a little and put it back in the pan still inverted so the top was then on the bottom. poked holes and saturated it with the milk mixture and moved on to the second cake (which I did not forget to put oil in). Anyway, fast forward to the next day, I bring them both into work, the cake without the oil was AMAZING!!! they were both excellent in flavor but because the oil-less cake was a tad on the dry side, it really absorbed the milk mixture like crazy. it was the perfect spongy texture I was looking for and a less dense that the cake with oil. I lived in Monterrey Mexico off and on for a few years and have eaten my fair share of authentic Tres Leches cakes. This recipe "took the cake" and I suggest you try leaving the oil out, or make it both ways like I did (on accident) and taste the difference for yourself!!

 

As funny as some reviews are with things like, "I didn't have any butter, so I used sour cream", "I ran low on sugar, so I made it up with baking soda", " I didn't have milk, so I substituted Crisco", then complain the recipe didn't turn out well. All I can say about this one is that I made it as per the recipe, and the wife & I liked it so well, we'd like to give a few more stars than just 5.

 

This is the BEST Tres Leches recipe out there. Great as it is -- even better if you double the milk mixture (I used most of it ... maybe having 1/4 of the doubled amount left). The trick? Make it the day before. My Mexican son-in-law says it's amazing -- and the BEST tres leches cake he's ever had. He said it's like his favorite at the Dallas Chuy's restaurant "but even better." Because it's "more traditional tasting" we use a big container of Cool Whip to frost it (rather than the real whipped cream). Now, EVERYONE in our family wants this as their birthday cake. Everyone who loves Tres Leches cake will ask you for your recipe. I promise! Note: I am skeptical of many recipes having wasted a ton of groceries on recipes found on the internet. This is not one of those recipes. Try it and enjoy!

 
Tweaks
Very good! I followed the directions, except used coconut milk in place of the evaporated milk, and flavored the whipping cream with rum instead of vanilla. I decorated the cake with fresh fruit & toasted coconut & got raves on both presentation & taste. I will post a picture of the finished product as well. Thanks for sharing!

 

Very authentic tasting and super easy! I made it with the pkg of white cake mix following the directions on the box except I substituted whole milk when the box calls for water and it still came out perfect. Used a straw to poke holes in the top of it and worked great. Topped it with fresh sliced strawberries and it was fantastic!

 
RECIPE SUBMITTED BY
I?m ?originally from Texas, but now live in Florida. Still gotta have that spice though....love chipotle peppers, habaneros, and jalapenos. This is a picture of myself & my 2 daughters taken in Dec'06. I am working on my graduate degree, & still work as a nurse prn. When I'm not cooking and eating what I cook... I head for the gym to work out. As far as cookbooks, I love the church/ community cookbooks, where someone has dug out old handwritten recipes by granny and shared them with others-those are the best kind. If I had a month off, I'd for sure go hiking, would love to visit Australia and New Zealand.?
View Full Profile