Sweet Pickle Relish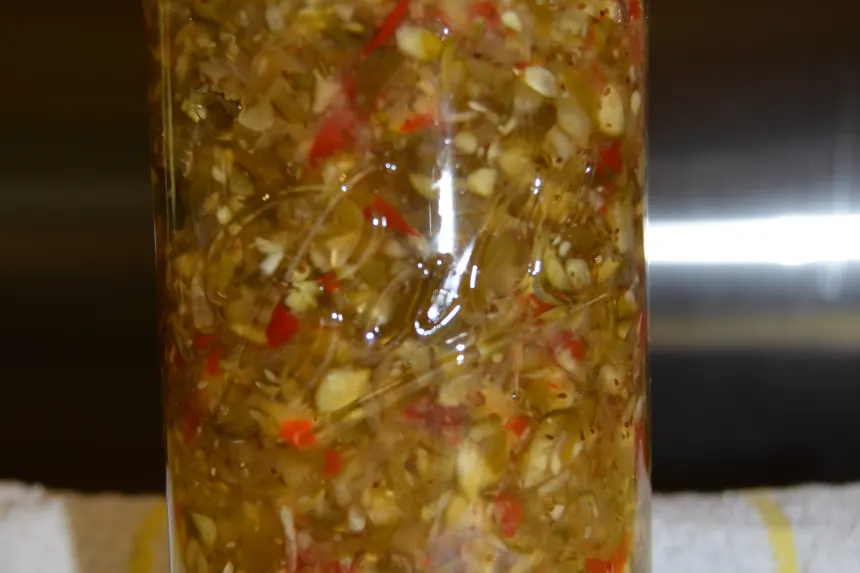 photo by Chef Linda of Louis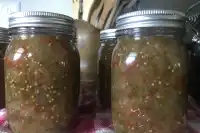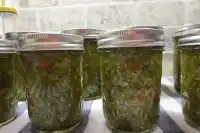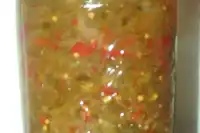 Ready In:

5hrs

Ingredients:

9

Serves:

96
directions
To deseed cucumbers, I cut them in half lengthwise and scoop out the seeds with my finger.
I chop the unpeeled cucumbers as well as the other vegetables with a Pampered Chef chopper.
Put all the vegetables in a large bowl.
Sprinkle the salt over the chopped vegetables.
Cover with cold water and let stand for 2 hours.
Drain vegetables well, then press out as much liquid as possible.
In a large pot, combine sugar, vinegar and seeds.
Bring to a boil.
Add vegetables.
Bring back to a boil and simmer for 10 minutes.
Using a slotted spoon, put into pint jars according to standard canning procedures.
(Note: Although some of the brine needs to go in the jars, I use a slotted spoon to keep it from being too soupy.).
Process in a hot water bath according to your altitude (10 minutes for up 50 1000 ft.).
Questions & Replies

Tweaks
First of all. Let me just say this.. This Relish is AMAZING! <br/>I've been a line cook for about 5 years now and I am huge on flavors...This Relish sings to me! I made it at our restaurant one day, added it to our burgers, served to my chef and fellow cooks.. We were talking about it all day!<br/><br/>*You cannot imagine how much THIS RELISH compliments burgers, hot dogs or sandwiches*<br/><br/><br/>I was in a rush one day, so I cheated..My cheat for this recipe:<br/><br/>- I used dill pickles instead of cucumbers<br/>- I omitted the kosher salt and seeds (dill pickles)<br/>- I used Apple Cider Vinegar<br/><br/>My favorite relish to date. I'd give more stars if I could!

 

We added a few things to this recipe. We doubled the recipe by adding 4 cups of Zucchini along with 4 cups of cucumbers. 3 cups of splenda, 3 cups of vinegar, and then pickling spices instead of mustard and celery seed. Could still cut back Splenda back by a cup, a little sweet. Taste just like what Grandma used to make !!!

 

I made this today with the following changes and it is scrumptious. Instead of 2 cups vinegar, 1 cup was used. Instead of 3-1/2 cups of sugar, 1-3/4 cup of Splenda/sucralose was used and instead of the celery/mustard seeds, 2 T of pickling spices were used. This was my first attempt at any kind of relish. I ate it warm on crackers - very good! Can't wait until I can put it in some tuna!

 
RECIPE SUBMITTED BY
I am the mother of 6 (only 5 of whom I birthed), and the grandmother of 10. Since my children were born in '70, '73, '80, '85, and '90, I have always had kids in different stages of life; so my life has never been boring. I homeschooled the youngest 3 for 15 years(which I really really enjoyed), but my youngest daughter is now going to the University of Hawaii. The next oldest daughter is a theater manager and English teacher in Seattle. Our 4 sons are are all merried, living in West Virginia, Nevada, and Oregan and are the parents of all our grandchildren .I did the Cub Scout leader a long time ago; then the Girl Scout leader and like that a lot better. I also love to garden and to cook. I started cooking in grade school, was fixing dinner every night as my "family chore" by the time I was in junior high, and have been enjoying it ever since. I think when you enjoy cooking, it is contagious. My married sons both share some of the cooking with their wives; my college daughter has enjoyed putting on Sunday Suppers in her dorm. Reading is also a favorite pastime, but my "reading" is done via books on tape since I am legally blind. I love Zarr because it allows me access to so many recipes, as well as the benefit of others' experiences (thanks to modern technology and a specialty computer software program designed for the blind and visually impaired. My husband (DH is an understated term) and I are involved in our church choir together, enjoy traveling, visiting friends around the country, and taking our grandchildren and Girl Scouts camping.
View Full Profile