Sourdough Chocolate Cake With Mocha Frosting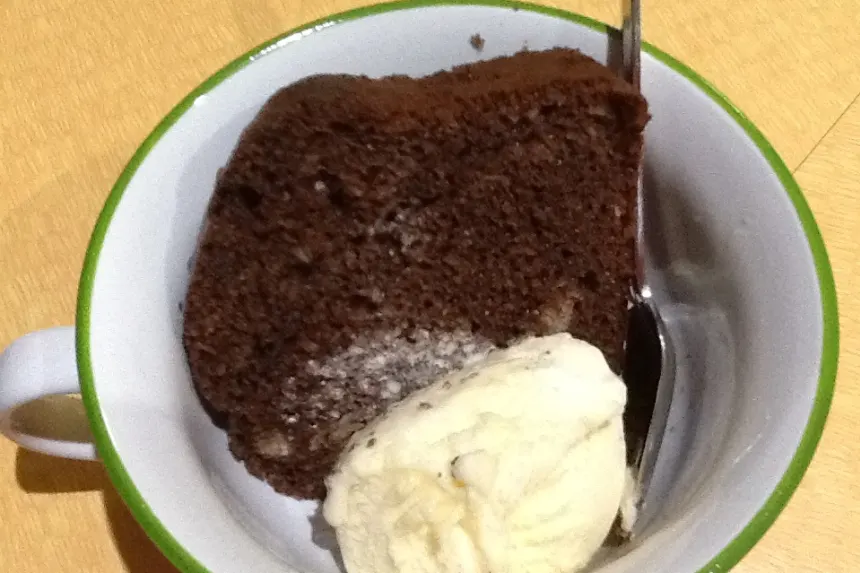 photo by K1968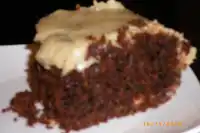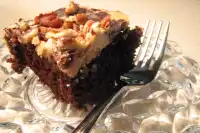 Ready In:

1hr

Ingredients:

19
directions
Combine the "fed" starter, milk, and flour in a large mixing bowl. Cover and let rest at room temperature for 2 to 3 hours. It won't necessarily bubble, but it may have expanded a bit.
Preheat the oven to 350°F Lightly grease a 9" x 13" pan.
In a separate bowl, beat together the sugar, oil, vanilla, salt, baking soda, and cocoa. The mixture will be grainy.
Add the eggs one at a time, beating well after each addition.
Gently combine the chocolate mixture with the starter-flour-milk mixture, stirring till smooth. This will be a gloppy process at first, but the batter will smooth out as you continue to beat gently.
Pour the batter into the prepared pan.
Bake the cake for 30 to 40 minutes, until it springs back when lightly pressed in the center, and a cake tester inserted into the center comes out clean.
Remove the cake from the oven, and cool on a rack while you make the icing.
Sift the confectioners' sugar into a large mixing bowl, and set it aside.
In a small saucepan set over medium heat, melt the butter and add the buttermilk or yogurt. Dissolve the espresso powder in the hot water, add to the pan, and bring the mixture just to a boil.
Immediately pour the simmering liquid over the confectioners' sugar in the bowl, and beat till smooth.
Pour the warm frosting over the cake.
Combine the chocolate chips, milk, and corn syrup in a microwave-safe cup. Microwave till the chips soften, then stir till smooth.
Drizzle the chocolate over the icing. (This can be done immediately or you can wait until the cake is cooled.).
If desired sprinkle chopped nuts on top.
Questions & Replies

Got a question?
Share it with the community!
Reviews
Great recipe, I love a recipe where I can use some of my starter. Mine took about 20min longer to cook than the recipe stated but it was worth the wait. I did not make the topping just served it warm with ice cream as a desert and it went down well. It does make a large cake so there was plenty left for lunches the next day.

 

As usual with your reciepes GW this was awesome and the directions very clear and easy to follow. I'd just fed my Alaskan Starter and didn't want to throw any out so decided to try this for something differant - and that it is. The only change I made was with the flour used 1 cup all-purpose and 1 cup cake flour. I felt this made for a nice smooth texture that rose nicely. No real sourdough flavor but a rich, lovely chocolate. The mocha icing was just right and I didn't even bother with the chocolate drizzle (still have that 2 yr old angel visiting and not much free time) but really didn't miss it, though I will try it next time. It does make a LOT of cake so make sure you have plenty of help to eat it.

 

I made this for my dad's birthday yesterday. We had it today (for breakfast but that was when we were all together). The cake was dense and chocolatey. I justed put a chocolate butter cream on it and some sprinkles. What we didnt eat for breakfast I took to my brother and his family on our way home. He love chocolate cake and I had to leave the rest there for him. Definately a keeper and a different way to use up that cup of sourdough. The only thing I did different was use 2% milk because that is what I had in the fridge.

 

This is a dense moist cake with an incredibly chocolaty flavor. There is no sourdough taste at all. I just dusted it with confectionery sugar and did not make the icing and it was a hit. I also gave the recipe to my friend last week and she's made it 3 times already. This is a great way to use extra sourdough starter. I plan on making it again tomorrow, but this time will put it in a loaf pan and freeze for future use. By the way...don't forget the water in the oven...it definitely adds to the moistness of the cake.

 
RECIPE SUBMITTED BY
"Life is not a journey to the grave with the intention of arriving safely in a pretty and well preserved body, but rather to skid in broadside . . . Chardonnay in one hand . . .chocolate in the other; the body thoroughly used up, totally worn out and screaming "WOO-HOO, what a ride!!"
View Full Profile