Amish Sourdough Bread/Starter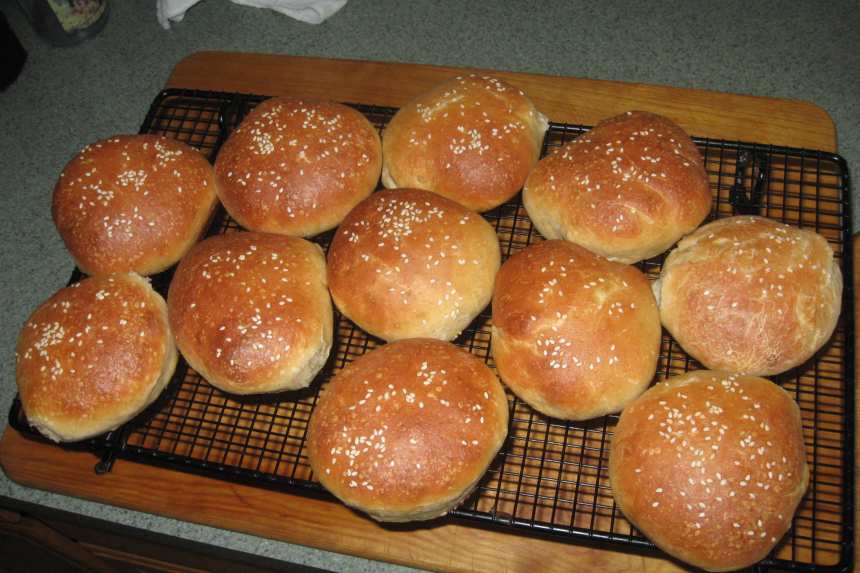 photo by manushag

Ready In:

1hr 20mins

Ingredients:

15

Serves:

30
directions
For starter, dissolve yeast in warm water. Mix with 1 cup flour, 1 cup sugar or honey and 1 cup milk (lowfat or 2% milk is OK). This is day 1 of 10 day prep. Use a plastic or glass container.
Leave starter on the counter covered, and stir daily.
On the 5th day, add 1 cup flour, 1 cup sugar or honey (or combination) and 1 cup milk. This is called 'feeding' the starter.
Continue to stir daily. On the 10th day, add 1 cup flour, 1 cup sugar or honey and 1 cup milk. Starter can now be divided and given away or frozen. I usually wait a day to bake after feeding starter.
If you are not baking the next day, you can refrigerate starter, but bring to room temperature on baking day, or the night before, if frozen.
If you receive a cup of starter as a gift, feed immediately and wait a day before baking, to give starter a chance to ferment, at room temperature.
To bake: Place 1 cup of starter in bowl of mixer. Put mixer on slow speed using a dough hook, and add all ingredients. All ingredients should be room temperature.
Add 2-1/4 tsps. yeast, 1 cup water, 1 cup milk, 2 tbls honey, 1/4 cup oil, 1 cup whole wheat flour, 2 eggs, 2 tsps. salt, approximately 6-7 cups white flour. You can add more whole wheat and less white, as preferred.
Knead dough for 10 minute in mixer. Dough should be slightly sticky, but smooth and shiny and should mostly all be on the dough hook when done.
Remove dough from mixer bowl to a floured board and knead by hand two minutes, shaping into a large ball. Oil inside of mixer bowl.
Place dough back into bowl, swirl around in oil, and turn over so all sides are oiled. Press down, cover with a clean towel and allow to rise in a warm place until doubled.
Punch down and divide into two loaves. At this point, 1 ball can be made into 12-14 rolls. Divide into even balls, (if you have a scale, about 2-1/2 oz. each) place on greased cookie sheet, pressing down to a flat disc. Brush tops with beaten egg white mixed with 1 tbl water and sprinkle with sesame or poppy seeds, if desired.
Cover and allow to rise for 1 hour, or until double in size.
Preheat oven to 375° and bake rolls for 15-20 minutes, until browned.
For loaf of bread flatten 1/2 of dough into a rectangle, to remove bubbles and roll up to a log. Roll two sides under and place log seam side down in greased loaf pan. Brush top with egg white and sprinkle with seeds. Bake at 375° for 25 minutes. Remove from pan and thump bottom of loaf. It should sound hollow when done.
You can bake 1/2 of dough and shape other half into a loaf, wrap tightly in plastic wrap and freeze. When you are ready to bake, remove from wrap and place in greased loaf pan. Cover and allow to defrost and rise in a warm spot. Brush with egg white and sprinkle with seeds. Bake as usual.
Questions & Replies

I read the question val248 wrote but no one answered. If I have the starter ready, and I take some out to make a recipe. How often do I feed the left over starter to keep it going? I realize you add the same amount of flour, honey and milk but how often if I want to bake maybe every week end. Most starter recipes I've seen are just flour and water but I think yours sounded better. I just don't want to lose it by not feeding it right.