Soup, Vegetable or Chicken-Vegetable (No-Salt-Added)
photo by Bergy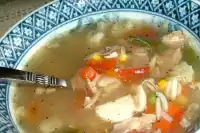 Ready In:

2hrs 15mins

Ingredients:

16
directions
Make chicken stock.
Add olive oil to soup pot.
Chop onion, carrots, and celery.
Heat olive oil over medium heat.
When hot, add onion, carrots, and celery.
Saute until softened.
Add chicken stock and water and increase heat to high.
Add remaining vegetables except tomato paste, and Flavor Enhancer.
Bring to a boil.
Reduce heat to medium-low and simmer uncovered for 1 hour, stirring occasionally.
Mix tomato paste in 1/2 cup of the broth and add to soup.
Add black pepper.
Increase heat to high to return to simmer, then reduce to medium-low.
Simmer for another 30 minutes, stirring occasionally.
Add chicken, if using, and cook for 5 minutes.
Set aside enough soup for rest of week.
Freeze remaining soup in one cup containers for future use.
Questions & Replies

Got a question?
Share it with the community!
RECIPE SUBMITTED BY
I'm a little shy, but here's a photo of my 4 week old kitten from a couple of years ago, to add some cuteness to my page. She cried out from a bush outside a friend's house one evening. I was visiting my friend because she was going to have surgery the next morning. Since you can't really say "Well, good luck with the surgery tomorrow...and that kitten!", I took her home. This photo was taken the next evening. She's now a very smart adolescent who excels at tricks (sit, high five, stand up, lay down, speak). We're currently working on harness/leash training. She carries that little bear in the photo around the house sometimes. I am on a constant search for really healthy, yet tasty recipes. The ones I collect and use most often are low-fat, low-sodium, low-sugar, and use whole foods. I plan to add all of my healthful recipes here, in order to help others who are also interested in eating healthfully most of the time. I strongly urge anyone who is also wanting to eat more healthfully to subscribe to the Nutrition Action Healthletter (NAH) from the Center for Science in the Public Interest (CSPI). It's like the Consumer Reports of food (more info can be found under Subscriptions, below). I copy and print their Brand Name Rating sheets for a binder I take grocery shopping, so I don't have to spend quite as much time reading labels. See the subscriptions section, below, for the link. I have obtained a lot of helpful information from physicians and nutritionists who believe that good nutrition equals good health. The list of people and books is so long, I stuck them at the bottom of this page. My favorite cookbooks are down there too. My Cookbooks page is more helpful if you sort it by author's order or alphabetically. Disclaimer: There is one cookbook of my favorite pre-healthful eating recipes that I could not bear to throw away...not just yet, anyway. I'm attempting to transform some of them into less harmful recipes. <img src=http://images.barnesandnoble.com/images/10140000/10143655.gif><img src=http://images.barnesandnoble.com/images/12070000/12074083.gif><img src=http://images.barnesandnoble.com/images/10490000/10492049.gif><img src=http://images.barnesandnoble.com/images/11450000/11455728.gif> <img src=http://images.barnesandnoble.com/images/9700000/9702327.gif><img src=http://www.cspinet.org/nah/12_06/december_06cover.jpg><img src=http://images.barnesandnoble.com/images/8910000/8914465.gif><img src=http://images.barnesandnoble.com/images/8490000/8490150.gif>
View Full Profile