Samosas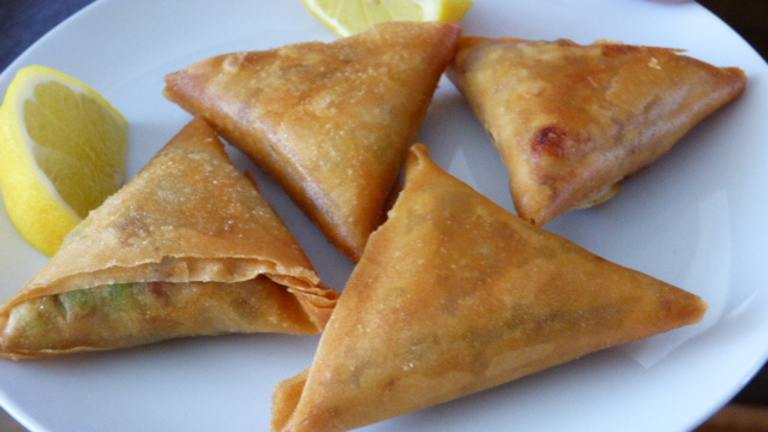 A crisp, crunchy Beef Asian appetiser, full of flavour. wonderful to serve with a glass of Beer. or for lunch. Worth the effort to make - my friends and family always ask for these
Ready In:

2hrs 30mins

Serves:

Yields:

Units:
directions
Heat oil in a saucepan and add the onions, garlic and ginger, cook on a medium heat until soft, stirring often.
Add the curry paste and stir through the onion mixture, add the beef, and stir with a fork until all the pinkness has gone, add the paprika and simmer on low for 10-15 minutes stirring until mix is 'dry' if you find this hard to manage tip it into a large frypan or skilled and keep stirring until the liquid has evaporated
The meat must be dry of most liquid when cooked. Any surplus fat drain off, and season. Add the coriander; stir well and leave to cool.
Pastry.
You can either make your own dough or use spring roll wrappers - using 2 at a time.
Mix the flour and salt, add enough water to make a firm dough (it will be elastic in texture), knead for a few minutes and then, on a large area, roll out as thin as you can, sprinkling extra flour as you roll out to prevent sticking and turn over as required.
Spread oil, over half the pastry, and fold the other half over, roll out again as thin as possible taking care not to break through the layer.
Cut in strips approximately 8 inches long by 3 inches wide. Heat the oil in a large fry pan, and when put put in one strip at a time - this will immediately puff up, and has to be removed quickly before it starts to cook and set.
When still hot (mind burning your fingers) peel gently apart, the pastry will be so thin that it has to be handled with care.
Cool. Form a triangular pocket at one end of the strip and fill with the meat, just level with the top of the pocket, wrap the remaining pastry over the stuffed part and stick down the edge with some paste - made with just some flour and water -- if the pastry is too long, cut of any excess.
Continue until all the samosas are done -.
To cook them: Heat a fry pan with about 1/2 inch of oil, frying one side then the other about 6-8- minutes.
Drain on a paper towel, standing on their ends if possible to drain any excess oil out.
Delicious with a class of beer or as an appetiser.
Well worth all the work.
It's often easier to make the meat filling one day, and do the pastry and stuffing the next day.
The recipe makes about 30 samosas, and if you layer pack or freeze so they are not touching each other, you can just bag them the next day - this way you only have to take out however many you need at a time.
Submit a Recipe Correction
RECIPE MADE WITH LOVE BY
"A crisp, crunchy Beef Asian appetiser, full of flavour. wonderful to serve with a glass of Beer. or for lunch. Worth the effort to make - my friends and family always ask for these"