Samosas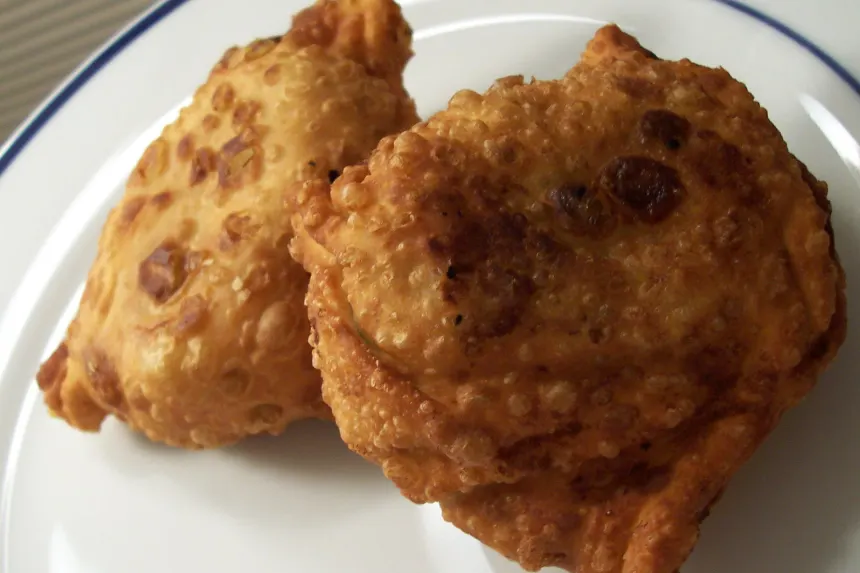 photo by love4culinary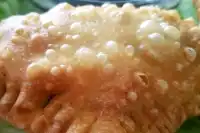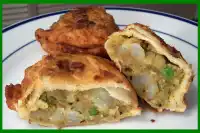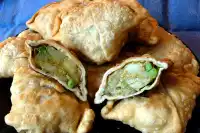 Ready In:

2hrs 15mins

Ingredients:

18
directions
First put the potatoes on to boil until tender, then drain and cool.
While the potatoes are cooking, make the pastry by mixing the flour and salt in a bowl.
Pour in the butter or ghee and rub together wtih the flour until it becomes slightly flaky.
Pour 3/4 cup water over the flour and pull the dough together with your hands.
You can add up to 4 tbsp more water, one spoonful at a time, until everything comes together in a bowl.
From here you can knead the dough by hand for about 10 minutes or throw it in a mixer with a dough attachment, going until the dough is smooth and elastic.
When the dough is done, place it in a bowl, rub with oil and cover until you are ready to fill the samosas.
Next, start making the filling by cutting your cooked potatoes into cubes.
Heat the oil in a frying pan and throw in the mustard seeds.
Cook until they start to crackle and burst and when that happens immediately add your chopped onion and ginger.
Cook for a few minutes until the onion softens and then add the fennel, cumin, turmeric, potatoes, peas, salt and water.
Stir well and then reduce the heat to low and let cook for about 5 minutes.
Sprinkle over the garam masala and hot pepper and stir again.
Taste for seasoning and then take off the heat.
Now it is time to start filling your samosas.
Grab a piece of dough by pinching off a piece and rolling it thinly and into a circle.
You can make the samosas any size you like.
With a knife, cut the circle in half, moisten the straight edge with a finger dipped in water and then shape it into a cone, pressing the straight edges together to form a seal.
You should now have a little ice cream cone shaped piece of dough which you can spoon filling into.
Fill and then moisten the top edges and press closed.
Set on a plate and cover with foil or plastic wrap until you are ready to cook (up to 2-3 hours later).
To deep fry the samosas, pour 3 cups of vegetable oil into a 12 inch wok and heat until a piece of dough thrown into the oil bubbles.
If you have a deep fryer, you want a temperature around 375°F.
Brown on both sides and drain on paper towel.
Finally, you can enjoy a samosa!
Questions & Replies

Got a question?
Share it with the community!
Reviews
I found this to come together much more quickly than estimated. Peeled and cubed the potatoes before boiling, which saved a fair amount of time. While the potatoes boiled, I prepared the other ingredients and then it took just a few minutes to saute the onions, etc. in the pan. I ended up adding more sea salt and cayenne, and only used 1/3 of the suggested fennel, as I didn't want it to dominate the flavours. The pastry dough was quick, easy and a pleasure to work with. I rolled it out into circles, split at the equator and just put the filling on one half of the half circle, and pressed the other half on top of it, pinching and folding over the sides. Found this easier than shaping it into a cone and filling, and it worked out very well. We're out of peanut oil and ghee at the moment, but I wanted to use a traditional, heat-stable fat so I used some organic, pasture-fed lard and it worked beautifully. Didn't impart any off tastes to the samosas. For a vegetarian oil option, coconut oil would be a good choice. Quick, easy, beautifully flavoured recipe, and it really sated my craving for samosas--thanks for posting!

 

YUMMMM! I can't stop eating these. The filling is perfect! I didn't have ginger or onions on hand, so I swapped in cauliflower and carrots, some ginger powder, a little lemon juice, and cilantro for some extra flavor. Cut down the fennel as per other reviewers' suggestion and pan fried instead of deep fried. Put them in the oven for 15 minutes to brown them a little more. It took me quite a while (3 hours) but I attribute that to not really knowing what I was doing. The two issues I had that slowed me down were that once I had made the little cones, it was a little hard to get the filling inside, and then secondly, it was a little tricky to seal them up. A little squishing did the trick. Long project, but would have gone faster with someone else's help. Totally worth the effort though - I'll definitely make these again.

 

I only used the pastry part of this recipe. I wanted meat samosas, so I used the filling from Recipe #41094. The pastry turned out really yummy. I added all the ingredients in one bowl and used the dough hook on my mixer. I also added a tiny bit of cumin (I wanted to put black cumin but didn't have any). Very easy to handle and roll. Will use again!

 
Tweaks
I found this recipe really easy to follow, although I cut down on the salt and used a salt substitute as I found that a teaspoon of salt in such a small amount of filling is quite a lot, especially for those people on a reduced sodium intake. I also left out the fennel as I found this flavour too strong. You could also replace the potatoe with some cooked rice. All in all it has a genuine Indian flavour.