Real Southern Cornbread
photo by Ivansocal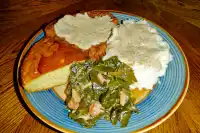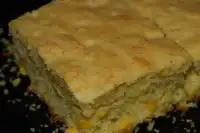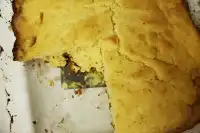 Ready In:

35mins

Ingredients:

10
directions
Put the skillet in the oven and preheat to 375 degrees.
Combine the dry ingredients except for the baking soda in a bowl.
In another bowl, mix the buttermilk and the baking soda.
Set aside.
In a small bowl, beat the egg with the sugar until combined.
Add the oil and mix until combined.
Pour this mixture into the buttermilk/baking soda, and mix.
When the oven is preheated, toss the butter into the skillet and let it melt.
Meanwhile, pour the wet ingredients into the dry, and mix in as few strokes as it takes to just make the dough come together.
Pull the skillet out of the oven, swirling to get the butter covering the bottom and up the sides of the skillet.
Pour the batter immediately into the pan, smoothing the top, then back into the oven for about 25 minutes, or until golden brown and pulled away from the sides of the pan.
Turn out onto a cutting board, cut into wedges and serve.
NOTE: IMNSHO- cornbread isn't worth making if you don't make it in a cast-iron skillet.
It may just be my upbringing, but it tastes better somehow.
And please do not add the baking soda to the dry ingredients.
I can't explain why, but adding it to the buttermilk makes a big difference in the texture.
Questions & Replies

This is a SKILLET cornbread recipe. Says use a 10 inch cast iron skillet. However the picture shows a square ceramic dish. I would never use one of these to make cornbread. I doubled the recipe for a 10 inch skillet. As written, it seems to make too thin a cornbread. Also, I grew up in Georgia Probably ate cornbread every day. My mother & grandmothers NEVER put sugar in cornbread.

 
Reviews
Bravo, PetitFour. My family and I had your cornbread last night and it was incredible. Your directions were all inclusive and very easy to follow. The cornbread formed a nice golden brown crusty exterior and the inside was tender and moist but with a good crumb texture. I buttered it with real butter and enjoyed every bite. Thanks for sharing your recipe and expertise.

 

Was very good. I recommend. The two tablespoons of sugar doesn't make it sweet. This isn't a sweet corn bread. Closer to a no sugar version than not but definitely the right balance. BTW, the acid in the buttermilk activates the baking soda and leaving it to sit for a bit makes sure that you get the best first rise. The baking powder gives you the second rise once it hits the oven. The small bubbles created by the baking soda captures the CO2 being released by the baking powder allowing it to thoroughly fluff the slurry before it finally sets.

 

This is a great recipe! :) <br/><br/>I do want to address a comment made on here by Chef #1294037 regarding what is "Real Southern", what is not, and what classifies Real Southern cornbread. <br/><br/>"Really good recipe...but real Southern cornbread is made with white cornmeal, not yellow. Don't get me wrong, I'm from GA and my grandmother would roll over in her grave if she knew I secretly preferred yellow-but traditional southern cornbread is always white. They used to say white cornmeal is for people, yellow is for the animals. lol"<br/><br/>The South is not just Georgia, but several other states as well. I'm from Texas and yellow cornmeal is used for our authentic Southern cornbread. As Chef said, white might be what it is in Georgia, but the South is far more than just Georgia. <br/>My point is, this is an authentic recipe, because it's titled Southern not Georgian, and yellow is considered 'proper' in several other states besides just Texas. <br/><br/>It's important to know where the whole South is before declaring something is incorrect. I say this because many people might search because they want to know what is authentic for whatever reasons, educational, interest, special dinner, etc. <br/><br/>So thank you P4 for posting this recipe. It is very good, and it sure seemed Southern to me. :)