No-Flour Cornbread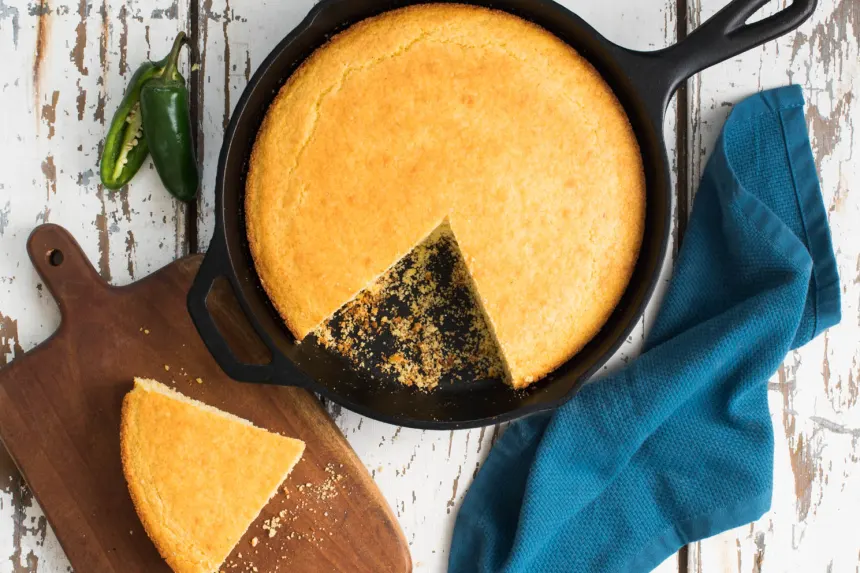 photo by Robin and Sue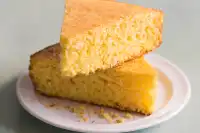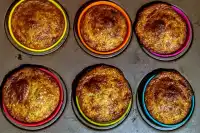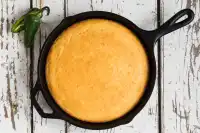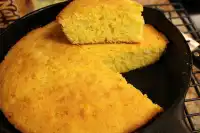 Ready In:

26mins

Ingredients:

7
directions
Preheat oven to 425°F.
Put first 5 ingredients in mixing bowl. (If it makes you feel better, go ahead and mix the dry ingredients, whisk the eggs into the buttermilk, then combine dry/wet ingredients).
Mix with large spoon or whisk.
Put bacon grease in well-seasoned 10-inch cast iron skillet over medium to high heat.
Just as the bacon grease is about to start smoking, pour it into the other ingredients, stirring as you pour (if you can manage it). Leave enough in the skillet to coat the bottom and sides.
Pour entire mixture into the skillet.
Place skillet on middle rack of oven; bake until cornbread is springy in the middle, browned and pulling away from the skillet on the sides (about 15-20 minutes).
Remove from oven and invert skillet over serving plate. If cornbread does not drop easily, you may need to run an icing spatula or even a flexible metal egg-turner around/under it so it comes loose.
Recipe halves well, just remember you can't cut the bacon grease by half because you still need to coat the skillet.
Serve hot, with plenty of butter. Or margarine, if you insist.
Reviews
I have used this recipe several times, and as a true southerner I can say that this is the most authentic cornbread recipe on this website. Thank you for not putting sugar in this recipe. SUGAR DOES NOT BELONG IN CORNBREAD. Flour does not belong in cornbread either - it's called corn bread because it's made out of cornmeal. If you want real cornbread then use this recipe, it's delicious. It tastes just like my grandma's recipe. Thanks for sharing!

 

This cornbread was really delicious! We had it with white chicken chili and I love the fact that it doesn't have sugar in it. And I'm sure it would have tasted even better, had I followed the recipe exactly. We don't really eat bacon that much, so I just used butter and melted it in a 9x9 pan in the oven before mixing in the rest of the ingredients (my skillet isn't oven-safe).. The whole family loved this and I will definitely make it again!

 

Now this is cornbread! I used my small cast iron skillet and made a 1/2 recipe. I like very much that this has no sugar, or other flours. I am not a fan of sweet cornbread. Used Bobs Red Mill whole grain medium grind cornmeal as that is what I had and it was "grainy" but I liked that. You knew this was corn bread. I did make a "diet" friendly version to experiment and that was good too, -using eggbeaters, almond breeze almond cashew milk with lemon juice to make it into "buttermilk" and 1 tablespoon of Brummel and Brown yogurt spread in the skillet. It was actually good, but I am accustomed to lightened recipes. (70 calories in 1/8th slice of 1/2 of the recipe.) The real thing always is swoon worthy though. I will never make cornbread any other way again. Now I want to make sure I have a proper bean recipe....Thank you for a great recipe that is authentic and has some history to it which is interesting too.

 
Tweaks
1 teaspoon of Himalayan salt per cup of corn meal; whole buttermilk and 1 tablespoon of Avocado oil per cup of corn meal used, instead of the 1/4 cup of bacon grease. Use spray Avocado oil on the skillet and put it in the oven when pre-heating so it is ready when you are ready. This trick will allow the bottom to be brown and crispy when the cornbread is ready. I use 450 degrees setting on oven. For a 12in; cast Iron Pan, use 3 everywhere they say 2 in the recipe above: 3 cups of cornmeal (I love self-rising cornmeal and leave out the baking powder). Cook until you see the top a golden brown. Why use Avocado oil instead of bacon oil - it is heart healthy and more importantly, it has a much higher smoke point - over 500 degrees, and it taste great!

 

This has become a favorite! I use a couple of tweaks, simply because they work for us better. I use kefir instead of buttermilk, and avocado oil instead of bacon grease. I add chopped jalapeños to the batter, and bake the cornbread in muffin tins. My husband works overnight at UPS, and has found these cornbread muffins to be very helpful in fuelling him for the gruelling work that he does. Thank you for a great recipe idea!

 
RECIPE SUBMITTED BY
I hadn't lived alone in over thirty years. One of the first things I learned was that I'm a good cook. The next thing was that it's exremely hard to cook for one. The solution seemed obvious: invite people to eat at my place. Often! Not only did I enjoy the company, but the company always seemed to eat with enjoyment, even gusto. Many of the younger folk, I grew to believe, have just never had homey, old-fashioned cooking. They often react to the meal as if I had performed some feat of magic.! ***** UPDATE ***** Moved to Paris, Tennessee in June, 2009, to live with my brother while he and I remodel a 1930 double-brick house (sound structure, otherwise a pile of trash, junk and other stuff that filled around 40 cubic yards of dumpster roll-off) for me to live in. (The remodeling seemed like a good idea at the time!) In December, about the time it got too cold to do much work in a place without insulation or heating, I picked up a staph infection in one of my replacement knee joints. This led me to a three-week stay in a Nashville hospital, at least the first part of which I remember poorly. Home now, after missing both Christmas and New Year celebrations (read: dinners!). Of course, this all took place when I had no health insurance, but all concerned are ore than happy to let me "pay what I can." And this month (February) I joined Medicare!!!! ******UPDATE ENDS ****** ANCIENT HISTORY: I taught high school drama (and English, and once in a while other subjects) for almost 28 years. When I decided I'd had all the fun I could stand, I retired at the ripe young age of 53. MODERN HISTORY: I've developed a small clientele who insist on paying me for various graphic design, web design, copywriting, and marketing jobs, and returned to my passion for the theatre. I've also expanded my musical explorations by adding my first steel-string guitar to my old standby classical guitar. Also have a mid-grade electronic keyboard, a baritone and a soprano ukulele, and even one of those Marine Band harmonicas from Hohner that I used to have as a youngster. Since separating from my wife, I've learned--for the first time--what living alone is like, the good parts as well as the not-so-good. If there's anything to those ads on TV with the laugh-so-much-they-fall-over babies, I must be set to live to at least 150 years old; I laugh an awful lot! And I've learned that crying is okay, too, and actually can make a person feel better. Never expected to be involved with anything like the 'Zaar, but I'm sure glad I stumbled across it. Lots of terrific recipes, and even better people. <img src="http://i23.photobucket.com/albums/b399/susied214/permanent%20collection/adoptedspring08.jpg" border="0" alt="Photobucket">
View Full Profile