Pumpkin Cake Bars With Cream Cheese Frosting!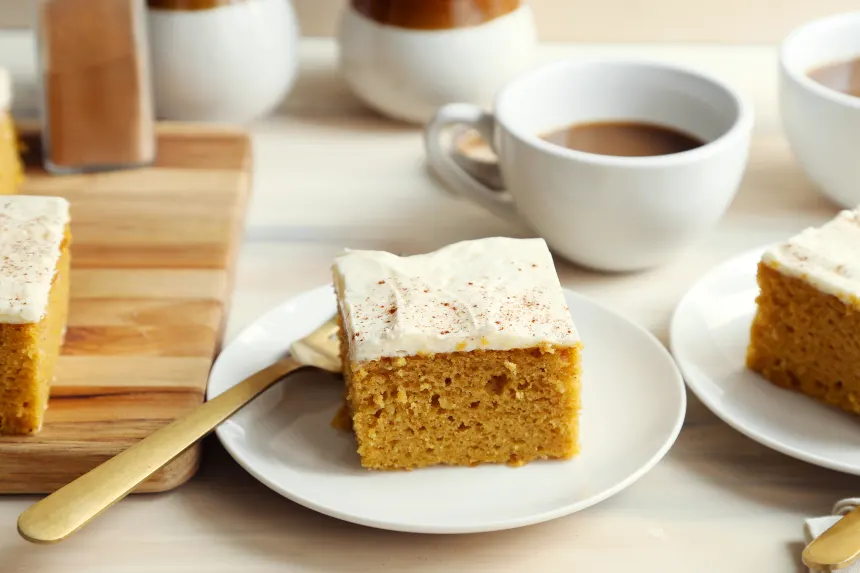 photo by Jonathan Melendez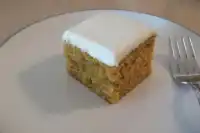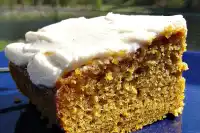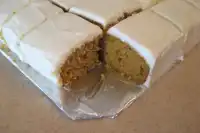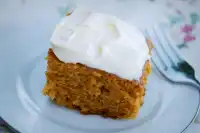 Ready In:

45mins

Ingredients:

12
directions
Preheat oven to 350°F.
Grease and flour one glass 9 x 13 inch pan.
In a mixing bowl, beat together the eggs, sugar, oil and pumpkin.
Sift together the flour, baking powder, salt, baking soda, salt and cinnamon; add to wet ingredients and mix thoroughly.
Spread into prepared pan.
Bake at 350° for 25 to 30 minutes.
Remove from oven and allow to cool.
For the frosting: beat together the cream cheese, butter and confectioner's sugar.
Evenly spread over bars after they have cooled.
Tweaks
Excellent recipe. I cut the sugar to 1 cup (the cream cheese frosting adds a lot of sweetness to every bite) and used 1 cup of unsweetened applesauce instead of the vegetable oil. I used 1 cup of whole wheat flour and 1 cup of all-purpose flour (instead of 2 cups of all-purpose) and added 1 teaspoon of vanilla and 1/4 teaspoon of allspice. I've made this recipe several times now and can't believe how moist and flavorful it is. You absolutely don't miss the vegetable oil! For the frosting, I added a bit more cream cheese and a bit less butter (I like to taste the cream cheese and it helps to cut the sweetness of the confectioners' sugar). This one's a keeper, and practically good for you!

 

This is a simple recipe that really lets the pumpkin shine through. Nice and moist, easy to make with staple ingredients. You could easily add more spice, but I liked it with just the cinnamon. I initially chose this recipe because it used the whole can of pumpkin, where most only use a portion (who wants an open can of pumpkin hanging around?) The only change I made to the recipe is to use equal parts all purpose and whole wheat flour, because I like things a little heartier. I am at high altitude and the whole wheat flour did a nice job of absorbing the extra liquid. I did have to bake it a few minutes longer. I think you could easily replace some of the oil with applesauce and still achieve good results. I only used about 2 1/3 cups of powdered sugar for the frosting (because that is all that was left in my canister) and the frosting was plenty sweet for my family. It also made more than I really needed. I think next time I will add some pecans or walnuts and I will adjust the frosting as follows: 4 ounces cream cheese, 4 T butter, 2 cups powdered sugar, 1/2 teaspoon vanilla. Thanks for the great recipe!

 

An excellent recipe! I made 24 cupcakes to take to a school function. I did substitute 1/2 cup unsweetened apple sauce for half of the oil as others suggested, decreased the sugar by 1/3 cup, and added a 1/2 tsp. each of ground nutmeg and ground cloves. I baked them for 30 minutes. For the cream cheese icing, I used an 8 oz. brick of cream cheese and a stick of butter (8 TBSP.), 1 tsp. vanilla and about 3 1/2 cups of powdered sugar. I put the icing in a gallon zip top food storage bag and snipped of one corner to pipe on the icing. Everyone at the party loved them!

 
RECIPE SUBMITTED BY
<p style=color: #212121; font-family: alexandriaflfregular, AppleGothic, Arial, sans-serif; font-size: 14px; line-height: 22px; margin: 0px; padding: 0px 0px 15px;><span style=color: #000000;>Kristen Doyle is the creator of the award winning website, Dine &amp; Dish. Since early 2006, Kristen has been sharing her favorite recipes, photographs and life stories with an ever growing audience of engaged readers.</span></p> <p style=color: #212121; font-family: alexandriaflfregular, AppleGothic, Arial, sans-serif; font-size: 14px; line-height: 22px; margin: 0px; padding: 0px 0px 15px;><span style=color: #000000;>Kristen has expanded her reach to include working with major brands (<a style=color: #f5866c; text-decoration: none; href=http://dineanddish.net/?s=bushs beans target=_blank>Bush&rsquo;s Beans</a>,&nbsp;<a style=color: #f5866c; text-decoration: none; href=http://dineanddish.net/?s=Green Mountain Coffee target=_blank>Green Mountain Coffee</a>,&nbsp;<a style=color: #f5866c; text-decoration: none; href=http://dineanddish.net/?s=hallmark target=_blank>Hallmark</a>,<a style=color: #f5866c; text-decoration: none; href=http://dineanddish.net/?s=Zatarains target=_blank>Zatarain&rsquo;s</a>&hellip;just to name a few) as well as providing editorial content and direction for nationwide print publications and websites. Her freelance writing career spans working with magazines on a local and national level as well as creating valuable web content for a variety of sites across the web.</span></p> <p style=color: #212121; font-family: alexandriaflfregular, AppleGothic, Arial, sans-serif; font-size: 14px; line-height: 22px; margin: 0px; padding: 0px 0px 15px;><span style=color: #000000;>Kristen is a busy mom of 4 young kids, loves to entertain, has a passion for photography, and believes in keeping things simple. An avid reader, a kind of runner, a horrible gardener, and the wife of an outstanding man, Kristen&rsquo;s ultimate life goal is to connect and create meaningful relationships with others.</span></p> <p style=color: #212121; font-family: alexandriaflfregular, AppleGothic, Arial, sans-serif; font-size: 14px; line-height: 22px; margin: 0px; padding: 0px 0px 15px;><span style=color: #000000;>Kristen is available for editorial and photography projects, speaking engagements and ambassador partnerships with your brand. If you are local to Kansas City, give me a ring &amp; let&rsquo;s meet for coffee! I hope we get the chance to connect!</span></p>
View Full Profile