Pork Chops With Scalloped Potatoes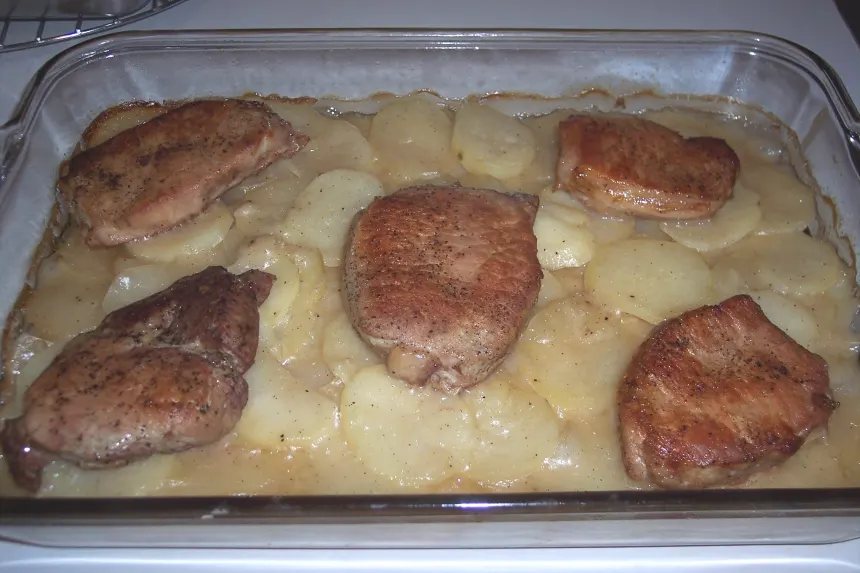 photo by looneytunesfan

Ready In:

1hr 55mins

Ingredients:

11
ingredients
3

tablespoons all-purpose flour
1 1⁄2 teaspoons salt
1⁄4 teaspoon pepper

1

(14 1/2 ounce) can chicken broth

6

pork ribs (3/4 inch thick) or 6 pork loin chops (3/4 inch thick)

2

tablespoons cooking oil

additional salt and pepper (optional)

6

cups thinly sliced peeled potatoes (about 4 pounds)

1

medium onion, sliced
paprika and chopped fresh parsley (optional)
directions
In a saucepan, melt butter; stir in flour, salt and pepper. Add chicken broth; cook and stir constantly until mixture boils. Cook for 1 minute; remove from the heat and set aside.
In a skillet, brown pork chops in oil; season to taste with additional salt and pepper if desired.
In a greased 13-in. x 9-in. x 2-in. baking dish, layer potatoes and onion. Pour the broth mixture over. Place pork chops on top.
Cover and bake at 350° for 1 hour; uncover and bake 30 minute longer or until potatoes are tender. If desired, sprinkle with paprika and parsley.
Questions & Replies

Got a question?
Share it with the community!
Reviews
Pretty good as a starting point. These are the changes I made:<br/>I used Nature's Seasoning liberally on the chops and got my cast iron skillet med hi hot. This gave a nice brown to each side and yummy bits in the bottom.<br/>Rather than waste the yummy bits left in the skillet after browning the chops, I added the butter to melt in the skillet. Then added the flour, stirring well. Finally added the chicken stock (1 3/4 C from a box) in two parts, allowing the gravy to thicken between additions.<br/>I used red skinned potatoes so I just scrubbed them really well and left the skin on.<br/>Baked with foil at 375 for 30 min. Then removed the foil to check potato doneness. Everything was done so I served it up. In retrospect I believe I sliced the potatoes too thin. The "gravy" was more like au jus but yummy nevertheless. Just needed lots of crusty bread to sop it up!

 

looneytunesfan, thank you from the bottom of my stomach for this recipe. I really enjoyed it. I only had 4 boneless chops, but I followed the rest of the recipe mostly as directed; I subbed Smart Balance Spread with Flaxseed Oil for the butter, and only estimated the amt I used to be about 3 T. I estimated the salt, used a lot more pepper because my bf and I love pepper. My chicken broth was water and chicken boullion cubes. I also used a bit more salt and a generous amount of pepper during browning, using a bit of canola and a bit of grapeseed oil. I thought the cook time/temp and the ratios were right on. The pork chops were extremely tender, although a bit dry since they were on top of the potatoes, but the flavor was wonderful. The potatoes and onions were delicious and the broth made a perfect thick sauce. I was so hungry by the time we ate dinner, that I forgot about the optional garnish. I don't really think I missed it. Bf enjoyed this too. For my first (oven) pork chop and scalloped potato recipe, I was impressed by the simplicity of the ingredients, but what nice flavor! UPDATE: Btw, I decided to try this with leftover ham from Christmas and to the recipe I added a med-large green pepper chopped. I layered the potatoes, onions, green pepper, and 3 cups of ham (it was spiral sliced which I just chopped into smaller pieces) and cooked as directed. I omitted any salt because of the salt in the ham. This was really good this way! Bf really liked it too. :)

 
Tweaks
looneytunesfan, thank you from the bottom of my stomach for this recipe. I really enjoyed it. I only had 4 boneless chops, but I followed the rest of the recipe mostly as directed; I subbed Smart Balance Spread with Flaxseed Oil for the butter, and only estimated the amt I used to be about 3 T. I estimated the salt, used a lot more pepper because my bf and I love pepper. My chicken broth was water and chicken boullion cubes. I also used a bit more salt and a generous amount of pepper during browning, using a bit of canola and a bit of grapeseed oil. I thought the cook time/temp and the ratios were right on. The pork chops were extremely tender, although a bit dry since they were on top of the potatoes, but the flavor was wonderful. The potatoes and onions were delicious and the broth made a perfect thick sauce. I was so hungry by the time we ate dinner, that I forgot about the optional garnish. I don't really think I missed it. Bf enjoyed this too. For my first (oven) pork chop and scalloped potato recipe, I was impressed by the simplicity of the ingredients, but what nice flavor! UPDATE: Btw, I decided to try this with leftover ham from Christmas and to the recipe I added a med-large green pepper chopped. I layered the potatoes, onions, green pepper, and 3 cups of ham (it was spiral sliced which I just chopped into smaller pieces) and cooked as directed. I omitted any salt because of the salt in the ham. This was really good this way! Bf really liked it too. :)