Preserved Pickled Garlic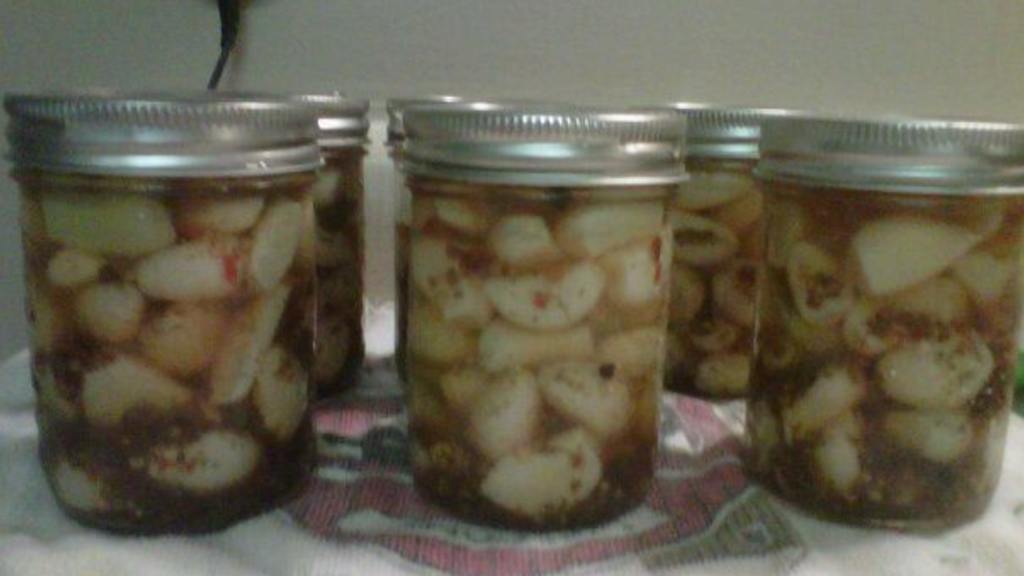 Ready In:

45mins

Ingredients:

8
directions
Bring vinegar, water and spices to a boil.
Add garlic and bring back to a boil.
Pour into clean, sterilized jars.
Seal tight and store in cool place.
Keep sealed for 3 weeks before using to get best flavor.
* Separating garlic into cloves and soaking them for 2 or 3 hours (or overnight) makes the outer skin easier to remove.
Join The Conversation
I haven't made this yet. I am very excited too though. I sterilized jars yesterday. But I've made other recipes, and I have to stress the importance of boiling your jars. Pickled products can be finicky, and last batch I made, I only washed my jars to "sterilize" them. I ended up with some carbonated garlic that I ended up dumping. It was tragic. So I just wanted to give all of you who may think it as simple as I did. Sterilize those jars. Or you will be a sad panda.

I made these back in January as holiday gifts for my co-workers, giving each a 1 cup jar. I just opened mine today, and all I can say is "Wow". The raw garlic bite has really been tamed down, and a really nice heat from the chili flakes has taken it's place. It's slow to start, but lingers on the tongue. These will be perfect to serve on an antipasto platter, or as part of a cocktail. Thanks for a great recipe!