Now don't go "EEEWWW!!" before you try this!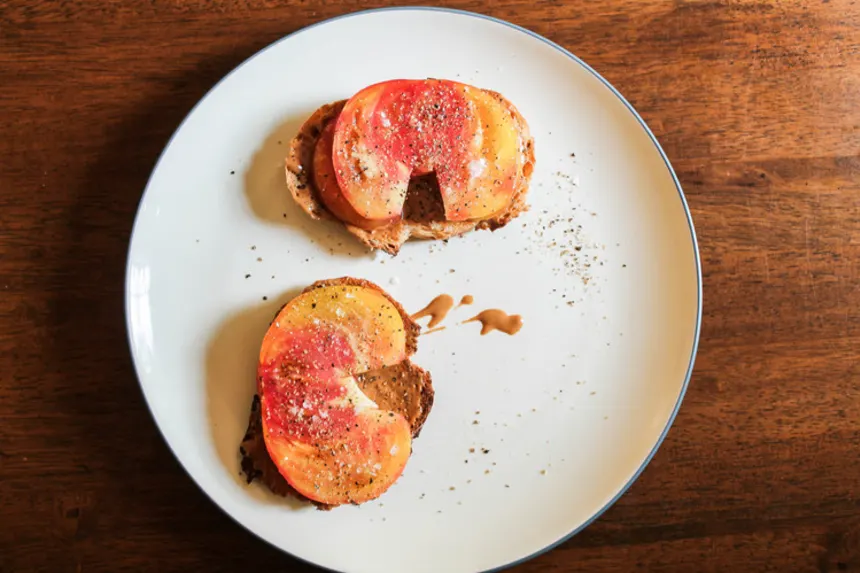 photo by Hannah Petertil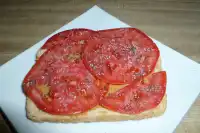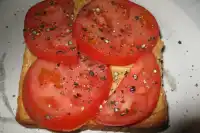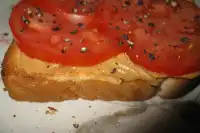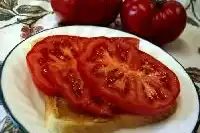 Ready In:

5mins

Ingredients:

5
directions
Spread peanut butter on HOT toast.
Concerned with calories-- You don't have to lay it on really thick, just make sure you can taste it.
Now, completely cover the toast with tomato slices.
Cut sliced tomatoes in halves or quarters, if necessary, to accomplish this task.
Sprinkle liberally with black pepper, and add just a bit of salt, if desired.
Eat while toast is still hot.
If it gets cold, throw away and start over.
Well, I'd probably eat it anyway, but it's not as good cold.
Try it, you'll like it.
Trust me on this-- the salty peanut butter is just wonderful with the tomatoes, and at least a little bit of pepper is necessary.
I know, you're going EEEWWWWWW!
But if you give it a shot, who knows-- Maybe this is how you can find your inner weirdo.
Questions & Replies

Got a question?
Share it with the community!
Reviews
ThatBobbiGirl -You may be way out and your mom may be way out but so am I!!!! I had a big lunch so decided to have your Peanut butter weirdo toast _ I heated the plate to keep the toast hot, slipped on the peanut butter, added the tomatoes and added chopped green onions - now I have adored peanuit butter with green onions for years but the tomatoes add the 3rd dimension - A true unique weird top winner!! Go everybudy - I know your writeup will pull in the views. Thanks for being fun, unique and good tasting

 

Hi There! I am a die-hard fan of this recipe, you know!! I am u could say, in love with this one. Chef Anu had posted a recipe few weeks back, which is just the same as this one. And ever since that evening, oh, I have to make this one. I make this very very often, earlier, it used to be daily, now its about thrice a week. I do put about 2 leaves of iceberg lettuce as well on top of the peanut butter on the slices and then place the tomatoes,salt and pepper on it. I would recommend this recipe to THE WHOLE WORLD! I am crazy about it:) And can you believe, I can have just 2 slices of this for dinner and yet feel I had a whole huge sumptious biryani, it gives me so much satisfaction:) This is one of my ABSOLUTE FAVOURITES!

 

This recipe has been around for many years. I am 50 years old and my parents ate p-nut butter and tomato sandwiches before I was born. Coming from east tennessee, with their reputation for fine tomatoes, I can say these tomatoes are the choice for this "delicacy". Also, try sweet pickles with p-nut butter.It really doesn't matter what bread you use for either sandwich,and it does not have to be toasted.

 

I have the almost exact same recipe too (#23836) and I positively LOVE this! Instead of spreading the peanut butter on hot toast, I spread it on the bread first, then lay the tomato slices (and lettuce/wilted spinach sometimes), and grill the bread in the oven. That way the tomato juices seep into the bread a tad, and the peanut butter gets a fresh toasty flavour as well! But your method works great too :)

 
RECIPE SUBMITTED BY
Professional Advice Dispenser. Amateur Human Being. Warning: Contains nuts. NOW with Patented Glow-In-The-Dark Personality!
View Full Profile