Mom's Christmas Breakfast (Make Ahead)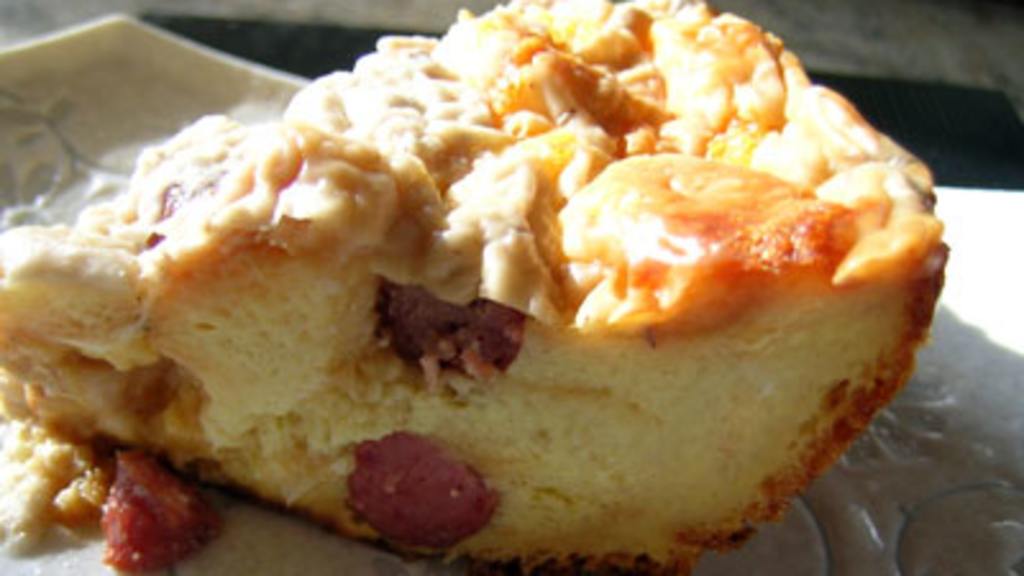 Ready In:

1hr 15mins

Ingredients:

8
directions
In a greased 9X13 casserole dish, alternate layers of bread, sausage, and cheese.
Beat eggs, then add milk, salt, and mustard. Pour over meat and cheese mixture. Refrigerate overnight.
Mix soup and milk together in a pourable cup. Cover and refrigerate overnight.
Next morning, pour the soup and milk mixture over all, bake 300*F 1-1/2 hours until set.
Join The Conversation
I love this recipe. A little like souffle and/or fluffy quiche. I cut the recipe in half but used 3 eggs instead of 2 1/2 eggs. Used 8 1/4 inch round dish for baking. Since I did not want to waste the soup/milk mixture, I made the whole serving of soup/milk topping mixture and used half of it and froze the other half for another time. Also, since this reminded me a bit of another dish with mushroom soup, I added some already made sauerkraut (about 2/3 C total) during the layering. This recipe is great for creativity and I also added some garlic and hot sauce to the filling. I baked the dish for about 1 hour and 40-45 minutes. The topping of soup/mixture browned nicely and the dish puffed up beautifully. The taste was fabulous! I did not let the filling mixture sit overnight - too hungry and only let the mixture sit for 2 hours or so. I knew this was ok because I make enough bread pudding and the mixture is similar except this one is savory instead of sweet. We served this for dinner with a green salad. Thank you Chef PotPie for posting this great recipe! A keeper for sure. Will try to post a photo tomorrow.

My Mother-In-Law has been making this for breakfast on Christmas day since I met my Dear Husband and before. It's really wonderful, and we always look forward to brunch at Mom's. This recipe can be changed all about, too. I've used pepper-jack cheese and shrimp, Havarti and crab...We just like it best the way Mom makes it! This goes very well with little sweet rolls, fresh strawberries, juice and coffee.