Louisville's Green Chili Wontons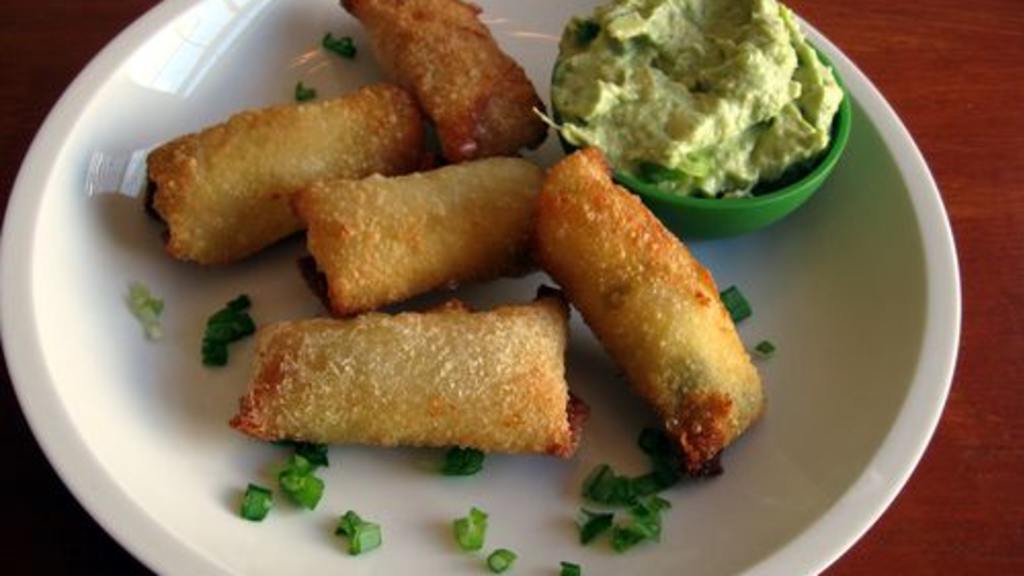 Ready In:

16mins

Ingredients:

10

Serves:

4
directions
Green Chili Wontons.
Blend the green chilis, jalepeños and cheese. Put two tablespoons of the cheese mixture on one corner of the wonton wrapper and fold that corner over. Fold the corners on the right and left. Dip the remaining corner - the top one -- in water before folding it down.
Deep fry in 350-degree oil for one minute.
(Makes 18 wontons).
Guacamole Dipping Sauce.
Mash the avocados and blend all ingredients thoroughly.
Makes about 1 cup.
Join The Conversation
We live on the Indiana side of metropolitan Louisville and these are some of my boyfriend's favorite things ever. We always go there for his birthday meal specifically so he can eat these. But this year covid kind of made that difficult and none of the delivery apps would take Bristol's across the river so I decided to make these as a birthday treat and they tasted SO good, almost identical to Bristol's. The only thing I noticed was that the salt for the dip was way too much, I'll cut that down next time, and that even though the recipe said wonton wrappers, I think it should have said egg roll wrappers, there was no way 2 tablespoons of the mix was going to fit in the wonton wrappers, so I made a bunch of mini ones. Frying is not something I really do, so I found this a bit nerve wracking and I found the oil difficult to work with (though the result was worth it). I had been considering buying an air fryer and I am curious how these will turn out in one.

I lived in Louisville for two years while in grad school... since then I've lived in Texas and Indiana... I drive to Louisville and The Bristol is always a place we stop at to eat... of course I always order the Green Chili Wontons and Derby Pie from there... I'm so excited to try this receipe! I'm almost 27 weeks pregnant and have been craving some Green Chili Wontons!! Can't wait to also come back to Louisville to visit, because there are so many other places I have cravings! Wish I could move back to Louisville!!!!

I can't speak for the dip as I didn't make that, but the wontons are spot on! I just had these at the Bristol and was *so* pleased to find the recipe here! I made about double the 18 wontons the recipe says it makes, but probably if you used bigger wrappers you would only get about 20. The recipe calls for 2 TBSP of the mixture per wonton, and my wrappers could only fit 1 TBSP. The frying time was perfect and I really liked them with a salsa/ sour cream mix to dip. I eventually gave up folding them in little "envelopes" and just wrapped them like little tortellini. As a matter of fact, I may just make some up and use them in place of the ravioli in this recipe: http://www.recipezaar.com/108124